Samsung Galaxy Admire 4G arrives on MetroPCS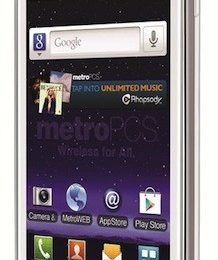 To add to its collection of budget-friendly handsets, regional carrier MetroPCS has announced the Samsung Galaxy Admire 4G. It's available now for only $169 without a two-year contract, and compared to the previous Galaxy Admire, this one comes packing with more power, a larger screen, better battery life, and 4G LTE support.
The Samsung Galaxy Admire 4G features a 3.65-inch HVGA TFT display, a 1.0GHz processor, a 3MP camera, and comes pre-loaded with Android 2.3 Gingerbread. It's certainly not much to look at, and it won't please the power users of the Android army, but it will certainly do the trick for everyday users who simply just need a phone.
Of course, if you need more fire power you can always go for Samsung's Galaxy S III, which is also available contract-free at MetroPCS. Of course, it'll cost you a pretty penny (49,900 of them, or $499), but you'll be getting a fast and sleek device in exchange. However, if that's just not in your budget, the Admire 4G is probably a good second choice.
The Galaxy Admire 4G is available right now online and retails for $169 before tax. However, you'll have to wait until tomorrow if you want to pick up the new phone in-store. MetroPCS service plans start at $30 per month, with an unlimited 4G option currently offered for $55 per month, and that's without a contract, mind you.
[via Android Community]