Galaxy A8s no-jack photos show End Is Near for Samsung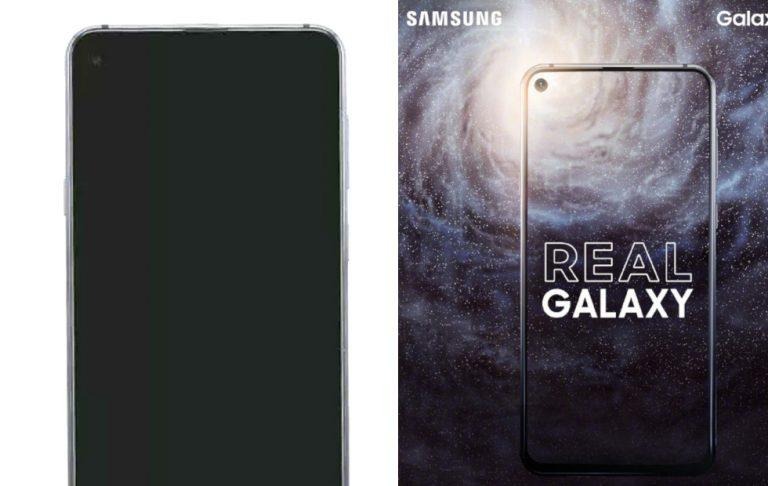 The first hole of the season is here! In the mix is the Samsung Galaxy A8s, one of a whole barrage of smartphones with "holes" in their displays coming in 2019. This device features what Samsung calls an "Infinity-O" display, with a hole cut into its display for a front-facing camera in lieu of a notch. Because we need the full frontal display, and we need the camera, and we cannot do without both!
It's been rumored, and now that we see TENAA photos from China we can all but confirm, that the Samsung Galaxy A8s will roll with a 6.39-inch display that'll have nearly full frontal phone coverage – with tiny, tiny bezels. This smartphone's size is 158.4 x 74.9 x 7.4mm, and it'll feature a 3,300mAh battery. That's pretty decent, but not the biggest we've seen for a display this size. Count on power regulation for this smartphone, for certain.
The Galaxy A8s has a set of three cameras on its back. The center of this 3-camera array's cameras features an interesting gold ring. It might just be that here, at last, we get a little bit of industrial design with intention for the often-unsightly set of cameras we've seen on smartphones throughout the past couple of years. Here, the camera array is balanced somewhat, with Samsung drawing attention to the size of the lenses rather than attempting to hide the lot in a blob of black.
Below the array of cameras you'll find a very, very tiny LED flash. This flash is set aside from the cameras in the aluminum (or glass, or plastic) backside of the phone. This phone is not meant to be particularly expensive, so Samsung's continued to place the fingerprint scanner on the back right out in the open. This device also has a power button, volume rocker, and a Bixby button for good measure.
Galaxy A8s expected specifications (leaked):
• Display: 6.3 inches, 1080x2340 px, 409 PPI, AMOLED
• Processor: Qualcomm Snapdragon 710
• RAM: 6GB
• Data Storage: 128GB (+ other variants)
• Camera: 24 MP + 10 MP + 5 MP Triple Primary Cameras LED Flash
• Front Camera: 24 MP Front Camera
• Battery: 3400 mAh
• Power: Fast Charging, USB Type-C port
Take a peek up close at the front and find the speaker. There's a tiny frontside speaker above the display glass – it's super small! This is the same sort of speaker we'll likely see coming with the Galaxy S10 and family. Gone are the days of the holes in the display glass – here are the days of everything set aside!
And of particular importance: This might be the first Samsung phone to come without a standard headphone jack. The end is near!
The Samsung Galaxy A8s will be revealed in full on the 10th of December, 2018. Exactly one week later, we'll see an extremely similar device coming from Huawei in the form of the Huawei Nova 4. Have a peek at how extremely similar they are right this minute, and don't forget to write!