Samsung folding Galaxy phone said to be carrier exclusive, costing over $2,000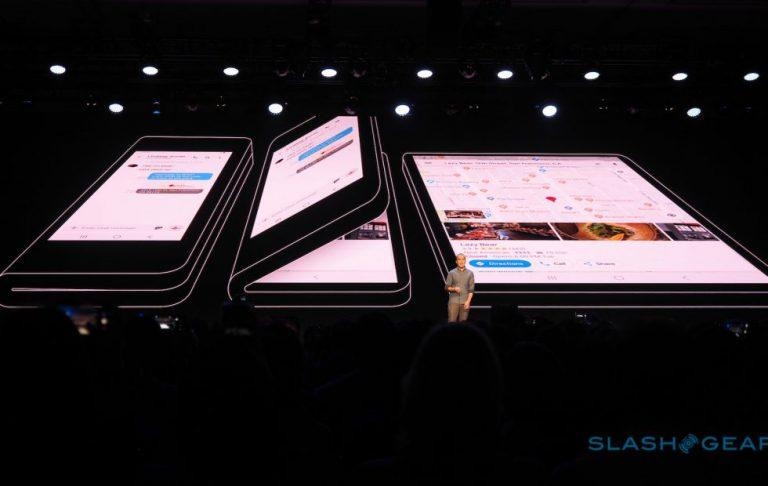 Earlier this month Samsung offered an early look at its upcoming folding Galaxy smartphone, showing both the larger internal screen and smaller display used when the device is closed, along with some general UI mockups. There's still many things we don't know about the unnamed phone, but thanks to an insider report, we have some potentially solid details about its European release and what kind of pricing to expect.
According to Gizmodo UK's source, which was verified to be a Samsung employee, the folding smartphone will only be available from two sources in the UK. The first will be Samsung's own online store, which will sell the device SIM-free and unlocked, and the other will be the country's carrier EE. The latter will reportedly sell the phone both on-contract and unlocked, meaning EE will be the only option for those who want to pay for the folding phone on a monthly plan.
Assuming these plans are accurate, it will be a big change in Samsung's launch strategy when compared to its other flagship devices. For several years now, both the Galaxy S and Galaxy Note phones have been available from almost every major mobile network, both in the UK market and in other regions.
As for how customers will pay for the phone, the choice between monthly installments or up-front will be a very important one. The source revealed that Samsung will be pricing it at a whopping £1,500 to £2,000, which is roughly equal to $1,900 to $2,500 in the US. Of course, that price range is dependent on which model customers choose and how much storage/RAM it has. But still, that will make it Samsung's most expensive phone to date and easily double the prices we're seeing on today's flagship devices.
A Samsung spokesperson would only reiterate that their foldable smartphone would be released in select markets in the first half of 2019, and that they were preparing for production of 1 million units. We'll have to see if the company goes with a similar carrier exclusivity in the US and other regions, but for now it's looking like the first customers will be paying quite a lot of money and not have much choice on where to get it.