Samsung flexible OLED displays ordered in bulk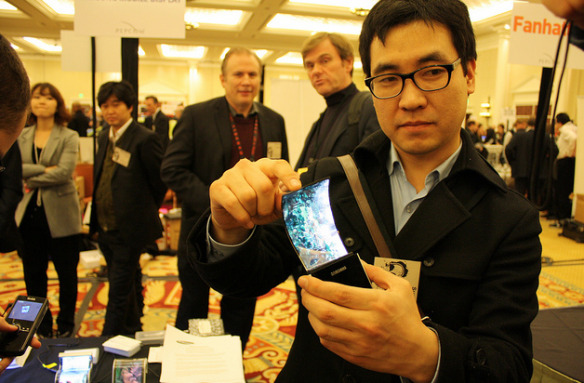 This week Samsung itself is letting the world know that it's on top of "huge" numbers of orders for flexible AMOLED Displays by the name of YOUM. This information comes direct from Samsung Electronics Chairman Kwon Oh-Hyun as he lets us know that flexible AMOLED displays will be hitting the market in the third quarter of 2012 when Samsung's mass production for the hardware begins full force. "The demand from our clients is significant!" noted Kwon, noting that OLED technologies along these lines will certainly be replacing LCDs inside the next few years as screens on mobile devices get thinner and brighter by the week.
What you're seeing in the images above and below are YOUM brand flexible AMOLED screens as they were presented at CES 2011. We've not seen this technology in-person for quite some time likely because Samsung is bringing the heat to the market in full force here very soon. Have a peek at OLED Display's presentation of the YOUM display back at CES 2011 – note that Samsung was already attached to the project in part back then:
Samsung has declined to speak on the matter insofar as how exactly the displays will be used on devices. We'll more than likely see them used on mobile devices sold on a small scale at first, especially since such strange technology simply isn't in demand right this minute because so few people have had their hands on it. That said, who knows how effective the drive will be once Samsung brings out the big floppy guns here at the tail end of 2012. Expect this bend in your display to show up be the end of the year!
[via OLED Display]