Samsung Exynos 5 Octa-Core Processor Shows Off Multi-Processing Capability On Video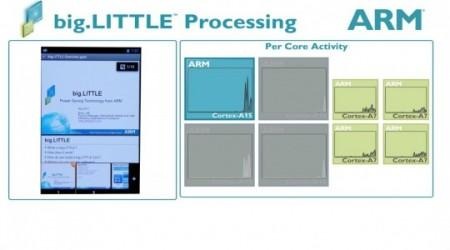 Samsung has been talking up its new octa-core processor for a while now. The little processor sounds really good on paper, but if you're the sort who wants to see it in action before you pass judgment you'll appreciate these videos. The Exynos 5 octa chip has been recorded on video performing some of its multiprocessing shenanigans.
The video is offered by ARM and highlights what you can expect to gain from the true multi-processing capability of Samsung's latest product. One of the key features of this chip is its ability to use all cores it has available simultaneously or in any other configuration for optimal performance.
The chip features a quartet of cortex A7 cores and a quartet of Cortex A15 cores. The exact mix of cores used depends on the power needs of the process being executed. The videos show a different types of applications including QuickOffice and Angry Birds Rio being tested to demonstrate which cores are used for different types of applications.
The benchmarks show that typically the power miserly A7 cores are able to get the job done. However, there are times when a mix of cores are activated to handle system demands. The ability to use only the number and mix of cores needed when they're needed should help improve battery life for devices using the processor.
SOURCE: Android Community