Samsung Exynos 5 7872 to power 2018 mid-range phones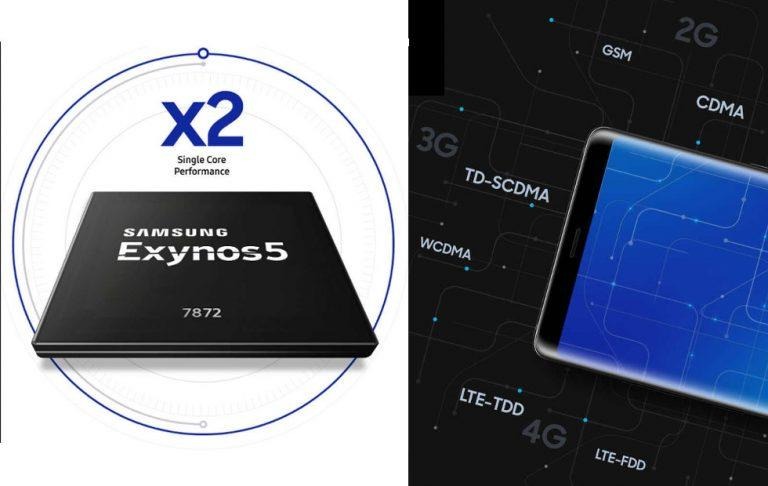 Last year's premium specs often become this year's mid-tier features. That does seem to be the pattern proven by Samsung's newest Exynos system-on-chip, not for the high-end phones but for those in the middle. The Exynos 5 series 7872 processor is designed to do more for less. That is, less cores and less capabilities. That said, there are some serious limitations to the chip that could hinder its use.
In terms of raw specs, the Exynos 7872 does seem to have the makings of a quality mid-tier processor. There's a hexa-core CPU with two performance Cortex-A73 cores, running at 2.0 GHz, and four energy-efficient Cortex-A53 cores at 1.6 GHz. On the networking side, it supports Cat. 7 LTE with 2 Carrier Aggregation (2CA), providing theoretical download speeds of 300 Mbps. For uploads, it supports Cat. 13 with 2CA for 150 Mbps speeds.
One of the outstanding features of this chip is support for an iris camera sensor of up to 8 megapixels. This means this chip was designed from the get-go to support iris recognition technology. It also supports 21.7 megapixel camera sensors on the back or front. And this is where the disappointment begins.
Despite the iris sensor support and high megapixel count, the Exynos 7872 doesn't support dual cameras, a feature that is fast becoming popular even on mid-range phones. Additionally, max screen resolution it can support is 1920x1200, which means Full HD+ 18:9 screens (2160x1080) are out of the question.
Samsung intends to use this chip for its own mid-range phones, which pretty much reveals the features we can expect from those models this year. Outside of Samsung's Galaxy, the only other Exynos customer is Meizu, whose recently announced Meizu M6s does use this processor and, unsurprisingly, doesn't have dual cameras on either side.
SOURCE: