Samsung extend bada with Wave 2 S5250 and Wave 2 Pro S5330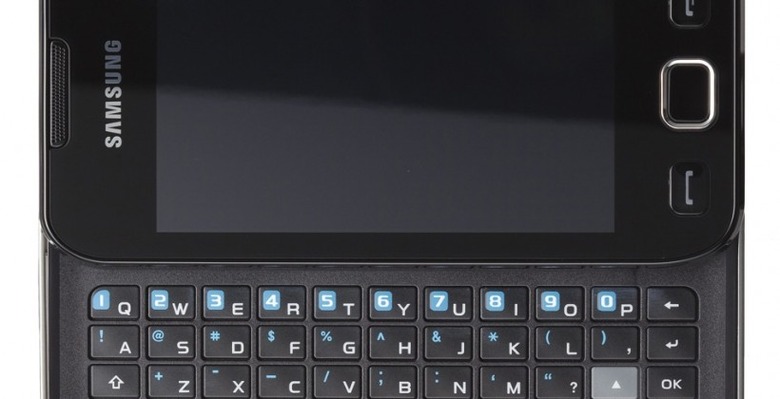 Samsung had always promised that the Wave S8500 would be just the first of several bada devices, and now the second and third smartphones based on the platform have arrived.  The Samsung Wave 2 S5250 and Samsung Wave 2 Pro S5330 are more affordable versions of the original bada phone, each with a 3.2-inch WQVGA LCD display (rather than the Wave's Super AMOLED), no 3G (EDGE max) and a 3-megapixel camera.  The Wave 2 Pro also gets a slide-out QWERTY keyboard.
You still get WiFi b/g/n but the Bluetooth is 2.1+EDR rather than 3.0; meanwhile there's no DivX or Xvid playback either.  A-GPS, an accelerometer, microUSB and a microSD card slot are all present, as is an FM radio and 3.5mm headphone socket.
The Samsung Wave 2 (S5250) and Wave 2 Pro (S5330) will be available from August in Russia and South East Asia. Customers can choose from the colors metallic black, pearl white and romantic pink; no word on pricing at this stage.
Press Release:
Samsung launches Wave 2 and Wave 2 Pro smart phones – an extension of the Wave range based on Samsung's bada platform

New Wave phones deliver a fully integrated experience for social media enthusiasts, keeping you effortlessly connected in style

Singapore – June 15, 2010 – Samsung Electronics Co., Ltd., a leading mobile phone provider, today launched the Wave 2 (S5250) and Wave 2 Pro (S5330) – the newest smart phones to support bada, Samsung's open mobile platform. The devices, on display at the CommunicAsia conference in Singapore, offer instant connectivity so that you can message your friends anytime, anywhere.

With Samsung's Social Hub, all of your contact details, social networks, and email services are integrated into a single space, making connecting and sharing easier than ever before. Whether you're looking for that always-on connection or key business features, the Wave 2 and Wave 2 Pro are designed for you, whatever your lifestyle.

"The Wave 2 and Wave 2 Pro are testament to Samsung's continuing commitment to deliver a smartphone for every lifestyle," said JK Shin, President and head of the Mobile Communications Business at Samsung Electronics. "I expect significant growth of bada smartphones volume thanks to the launch of mass market targeting Wave 2 and Wave 2 Pro. We will continue to invest in our open bada platform and offer a wide range of choices and experiences for consumers."

Making Waves with Social Hub

Samsung's Social Hub brings you closer to your contacts and connections by seamlessly integrating your email, IM and social networking sites on the device. You'll love this "ultimate inbox" and the ease at which you can view all your messages and manage your accounts. The Wave devices also come with pre-installed Facebook and Twitter apps so you'll never be out of touch with the latest updates and tweets, all from the convenience of your home screen. When you slide the 'WAVE 2 pro' open, you can quickly and easily send an important IM to a friend using a full QWERTY keyboard or leisurely browse e-mails on an easy-to-view screen in landscape mode.

Constant Connectivity

The Wave 2 and the Wave 2 Pro offer a constant connection with lightning-fast WiFi support. Google Latitude and geo-tagging features let you stay connected with your friends no matter where you or they are. With Google Latitude, you can update your status and easily find out where your friends are headed after school or work by glancing at a map. Geo-tagging lets you tag photos by location so that you can easily sort images based on whether they are from your summer vacation or a business trip. The feature also allows you to use GPS for other useful apps on your Wave smart phone.

Dive in for Entertainment

Samsung's bada platform gives you access to an abundance of applications from Samsung Apps, an integrated application store accessible from the Wave phones or your PC. Featuring a wealth of gaming, navigation, social networking, e-book, health and lifestyle applications, Samsung Apps delivers instant access to a huge range of mobile experiences. You can easily download an app without having to install any software by accessing Samsung Apps right on your phone or synching the device to a PC. Samsung Kies allows you to browse Samsung Apps on your PC and comes in handy for downloading large files and content. Java Applications will also be offered on Samsung Apps for Wave 2 and Wave Pro to enhance your experience with an even wider range of content. The Wave devices can also serve as complete media centers, offering rich, entertainment experiences on-the-go with a 3.5mm ear jack and an intuitive menu for music and other content.

The Samsung Wave 2 (S5250) and Wave 2 Pro (S5330) will be available from August in Russia and South East Asia. Customers can choose from the colors metallic black, pearl white and romantic pink.

Note to Editors:

Building on the success of the Samsung Wave, the Wave 2 and Wave 2 Pro are expected to significantly increase the total volume of bada smartphones on the market. With this volume and the growing popularity of Samsung Apps, Samsung's bada platform will attract more and more developers.

To encourage developers to create content for bada, Samsung launched the 'bada Developer Challenge', the biggest application contest in 2010. Samsung has set aside a prize pot totaling $ 2,700,000 for this event. Three hundred developers made it to the first round will receive the Samsung Wave. The contest winner will receive $300,000. For more information, please visit http://developer.bada.com/challenge/index.do