Samsung Epic 4G Official for Sprint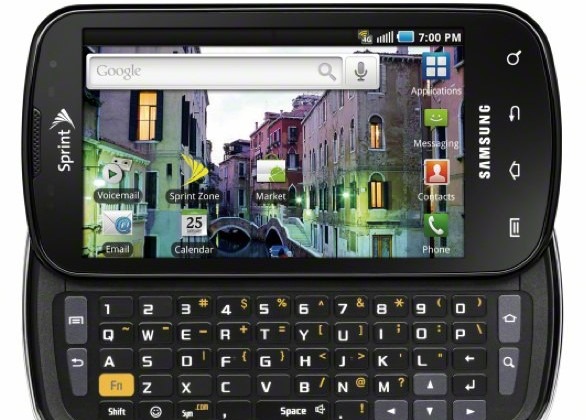 One might imagine that this had come out of left field, but if you'll recall, we've actually seen this phone before. It broke cover thanks to a tipster, and while we had originally put the moniker Galaxy S Pro on it, obviously Sprint and Samsung had a different agenda. Courtesy of Sprint, we've got official word that the Samsung Epic 4G (have to love the new trend, right?) is indeed coming "soon," and it's packing quite a mean punch.
The Epic 4G is the first 4G-capable device to feature a full, landscape-slider QWERTY keyboard. Not only that though, they're sticking with the Samsung Galaxy S' lineage, and packing a full 4-inch Super AMOLED capacitive touchscreen display. Under the hood, you'll find a 1GHz Cortex A8 Hummingbird application processor. You're also getting your hands on Android 2.1, and from what we can tell, Samsung's proprietary User Interface, TouchWiz 3.0 for good measure.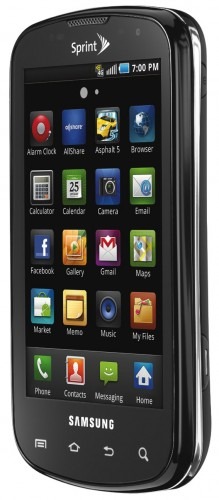 And it looks like Samsung is taking the same road that Motorola did at the launch of the Droid X. While the Epic 4G is launching with Android 2.1, both Samsung and Sprint already have plans to release Android 2.2 "in the near future." What you'll expect to see, changes wise, is an updated User Interface, support for Flash 10.1, as well as access to Apps2SD, or the ability to store applications on your microSD card.
You're obviously going to get access to 3G and 4G speeds, which should get you download speeds somewhere between 3-6Mbps (according to the release — your real world results will differ on a constant basis). You'll also be able to turn your Epic 4G into a 3G/4G mobile hotspot, which will allow you to connect up to 5 WiFi-enabled devices at once. There's WiFi b/g/n on the device as well, so you'll be able to connect to all your own favorite WiFi hotspots out there.
On the back of the device you'll be getting a 5MP camera with autofocus, and the ability to record video at 720p. Not only that, but you'll also be getting a VGA front-facing camera as well, making sure you'll still be able to do some video calls (much like the EVO 4G before it). And, much like the Motorola Droid X that was recently announced, Samsung has their own version of DLNA sharing, called AllShare. You'll be able to share your music, movies, and pictures on all DLNA-supported devices in your home, wirelessly. And one of the better reasons to do that is Samsung's new Media Hub, which makes the Epic 4G the first and only 4G-enabled device that is fully optimized to serve HD-like entertainment on a handset's screen. You'll be able to rent or purchase movies and TV shows wherever you want. Most interesting of that, though, is this line from the press release: "...turbo-charged downloads of a full library of video and literary content..." That word literary throws us off for a bit, as that's the only time they mention anything literary in the press release, so maybe it's a mistake. Either that, or expect to be reading books on that 4-inch Super AMOLED display, too.
As for memory, you get 1GB of ROM, and 512MB of RAM. Sprint and Samsung are also including a 16GB microSD card in the box, but you'll be able to cram a 32GB version in there if you're so inclined. Something else to mention: there's a 1500mAh battery standard, so you should be able to see a bit more improved battery life, right out of the box. But, of course, that will still completely depend on how you use it.
Unfortunately, Sprint and Samsung are still being coy about what really matters: release dates and pricing. As it goes in the press release, the companies plan on releasing more information about the essentials in the coming months, but nothing more in depth than that. If you want to pre-register, go ahead and head on over here and fill in the desired fields to get a heads-up when launch date gets closer. Check out the full press release below.
Press Release:
OVERLAND PARK, Kan. – June 28, 2010 – Sprint (NYSE: S) and Samsung Telecommunications America (Samsung Mobile), the No. 1 mobile phone provider in the U.S.1, today introduced the second 4G-capable handset from Sprint, Samsung Epic™ 4G, a Galaxy S™ smartphone and Samsung Mobile's first 4G Android™-powered device.

"Sprint takes another leap forward today, announcing its second 4G-capable smartphone," said Steve Elfman, president, Network Operations and Wholesale. "Samsung Epic 4G joins a portfolio of powerful devices offering an unprecedented simplicity and value to our customers as the only national carrier with a 4G network and devices and applications that can leverage the increased data speeds to provide a high-def entertainment and business experience in the palm of your hand."

"Samsung Epic 4G is a powerful member of our Galaxy S smartphone portfolio which offers premium screen, speed and content features," said Omar Khan, chief strategy officer for Samsung Mobile. "The Epic 4G ups the ante with a front-facing camera for video conferencing, a full QWERTY keyboard and lightning-fast 4G speeds."

Samsung Epic 4G is part of a new breed of Samsung smartphones offering their very best in screen, speed and content quality for a premium user experience, and offers a fully integrated multimedia, messaging and social networking experience. It also features an exceptionally thin smartphone design with a slide out, full QWERTY keyboard and 4-inch Super AMOLED touchscreen display.

The brilliant Super AMOLED touchscreen display offers:

• The best representation of color on a mobile phone that matches original content, more than 100 times the contrast quality of other leading displays

• Faster response time that reduces "ghosting" images

• Wide viewing angles to prevent blurring or distortion

• Thinner design to offer more accurate and responsiveness to touch

Entertainment at Its Best

In the coming months, Samsung Epic 4G will have access to the Samsung Media Hub, making it the first and only 4G handset to feature a video store with movies and TV available for purchase or rental, and video content set up for an HD-like entertainment experience on a handset screen. With 4G from Sprint, users will be able to get turbo-charged downloads of a full library of video and literary content powered by some of the biggest names in entertainment.

Samsung Epic 4G also features Samsung's exclusive AllShare service to wirelessly share stored music, pictures and HD video to other DLNA (Digital Living Network Alliance) certified™ home electronics, including HDTVs, monitors, digital cameras, printers and more. Through AllShare, users will be able to capture moments with the phone's camera and camcorder, and wirelessly show them to friends or family on their DLNA certified HDTV or download music from a PC to Samsung Epic 4G and take on the road.

Amazing Features

Powered by the Android 2.1 platform, Samsung Epic 4G also supports a series of advanced touch screen gestures including multi-touch pinch, long tap and zoom and vertical and horizontal swiping.

Samsung Epic 4G is the only 4G smartphone to offer three fast and easy ways to enter text onto the device – a slide-out full QWERTY keyboard, virtual keyboard and Swype technology, which allows users to input text faster and more intuitively with one continuous finger motion across the virtual keyboard.

The smartphone is designed for an optimal gaming experience with a six-axis sensor that fine tunes its accelerometer's ability to interpret simple movements of the device, so when the phone tilts up and down or left and right, the game can immediately respond in the same directions. A demo of Asphalt 5, a popular racing game, is preloaded exclusively on Samsung Epic 4G allowing users to take full advantage of these advanced gaming capabilities.

It also features:

• Samsung 1GHz Cortex A8 Hummingbird Application Processor supports amazing 3-D graphics, faster upload and download times and the full richness of HD-like multimedia content.

• Dual camera: 5 MP camera/camcorder with autofocus, Power LED flash and 3x digital zoom for HD video3 (720p) video recording and front facing VGA camera for video chat and more

• Visual Voicemail

• Mobile Hotspot capability supporting up to five Wi-Fi enabled devices to share the 4G experience simultaneously

• Android Market™ for access to more than 50,000 useful applications, widgets and games available for download to customize the experience

• Wi-Fi® b/g/n

• 1500 mAh battery

Game-changer for Business Customers

Samsung Epic 4G is designed to deliver one of the best multi-media experience for business users in several vertical industries such as healthcare, education, public safety, construction and professional services through superior speed and display innovation. It offers support for push email and integrated calendar services, including Google™ and Yahoo, as well as Exchange ActiveSync for corporate email including enhanced device management and security features, as well as full support for Google Mobile Services.

With Android's open-software platform, businesses can benefit from several productivity-enhancing applications available in the Android Market™ including bar code scanning, signature capture, document viewing and the ability to stream and upload video for customer approval and archival purposes.

Staying Connected with Social Networking

To make staying connected faster and easier, Samsung Epic 4G includes Samsung Social Hub designed to integrate all your social networking services, messages, personal and business email, calendars and contacts. Additionally, calendar information from portal calendars, such as Google Calendar and social networking services are displayed together in one calendar with two-way synchronization.

As work on finalizing the software is underway, Sprint expects to launch Android 2.2 for Samsung Epic 4G in the near future. With the Android 2.2 upgrade, customers can expect improvements to include the following benefits among others: updates to User Interface, improved EAS Support, improved Browser Performance including Flash 10x Support, voice Dialing Over Bluetooth and application Storage on External Memory.

A Sprint 4G developer guide is available today from the Sprint ADP Web site at http://developer.sprint.com. The Sprint 4G developer guide provides details on developing for an Android 2.1 handset and how to take advantage of the Samsung Epic 4G's unique hardware and software capabilities and the Sprint 4G network. The Sprint Application Developer Program has been providing tools for third-party developers since Sprint first launched the Wireless Web on its phones in 2001.

Sprint will announce pricing and availability in the coming months; meanwhile customers can pre-register for more information about Samsung Epic 4G at www.sprint.com/epic4g.

Blazing trails with Sprint 4G

Sprint 4G offers a faster wireless experience than any other U.S. national wireless carrier, and Sprint is the only national carrier offering wireless 4G service today in 36 markets. Sprint 4G delivers download speeds up to 10 times faster than 3G, giving Samsung Epic 4G the fastest data speeds of any U.S. wireless device available today.2

As the first national wireless carrier to test, launch and market 4G technology, Sprint made history by launching 4G in Baltimore in September 2008.

Sprint currently offers 4G service in 36 markets: Georgia – Atlanta, Milledgeville; Hawaii – Honolulu, Maui; Idaho – Boise; Illinois – Chicago; Maryland – Baltimore; Missouri – Kansas City, St. Louis; Nevada – Las Vegas; North Carolina – Charlotte, Greensboro, (along with High Point and Winston-Salem), Raleigh (along with Cary, Chapel Hill and Durham); Oregon – Portland, Salem; Pennsylvania – Harrisburg, Lancaster, Philadelphia, Reading, York; Texas – Abilene, Amarillo, Austin, Corpus Christi, Dallas/Ft. Worth, Houston, Killeen/Temple, Lubbock, Midland/Odessa, San Antonio, Waco, Wichita Falls; Utah – Salt Lake City; Virginia – Richmond; Washington – Bellingham, Seattle. For more information, visit www.sprint.com/4G.

In 2010, Sprint expects to launch 4G service in multiple markets, including but not limited to, Boston, Cincinnati, Cleveland, Denver, Los Angeles, Miami, Minneapolis, New York City, Pittsburgh, San Francisco and Washington, D.C.

More Satisfied Than Ever

Powerful 4G smartphones like Samsung Epic 4G is one of many reasons Sprint is the most improved company in customer satisfaction, across all industries, over the last two years, according to results from the 2010 American Customer Satisfaction Index.

Sprint's improvement was driven in part by substantial gains in two aspects of the survey. In the area of customers' perceptions of value, Sprint now leads both AT&T and Verizon. The company also achieved an impressive improvement in the area of customer loyalty. With these gains, the company's overall ACSI score jumped 14 points over the last two years. In the last six years of the ACSI survey, no other company has improved its satisfaction score by that many points in a two-year period.

The improvements in the ACSI survey come as Sprint has seen nine consecutive quarters of improved customer satisfaction and first call resolution. The company's improvements have also been recognized by other independent third-parties, including Sprint winning the #1 spot for both overall satisfaction for wireless voice service providers and wireless data service providers in a Yankee Group and Mobile Enterprise magazine survey of large business decision makers. Sprint also ranked high in small and medium business customer satisfaction. Also noteworthy was Sprint's two-year Reputation Pulse™ score increase in Reputation Institute's 2010 U.S. Most Reputable Companies Study (published annually in Forbes). Sprint's 18.22 percent gain puts its improvement in the top 10 percent of the 150 largest U.S. companies, ahead of both AT&T and Verizon.

About Sprint Nextel

Sprint Nextel offers a comprehensive range of wireless and wireline communications services bringing the freedom of mobility to consumers, businesses and government users. Sprint Nextel served more than 48 million customers at the end of the first quarter of 2010 and is widely recognized for developing, engineering and deploying innovative technologies, and is the first and only wireless 4G service from a national carrier in the United States; offering industry-leading mobile data services, leading prepaid brands including Virgin Mobile USA, Boost Mobile, Common Cents Mobile and Assurance Wireless and instant national and international push-to-talk capabilities; and a global Tier 1 Internet backbone. With its customer-focused strategy, you can learn more and visit Sprint at www.sprint.com or www.facebook.com/sprint and www.twitter.com/sprint.

About Samsung Telecommunications America

Samsung Telecommunications America, LLC, a Dallas-based subsidiary of Samsung Electronics Co., Ltd., researches, develops and markets wireless handsets and telecommunications products throughout North America. For more information, please visit www.samsung.com.

About Samsung Electronics Co., Ltd.

Samsung Electronics Co., Ltd. is a global leader in semiconductor, telecommunication, digital media and digital convergence technologies with 2009 consolidated sales of (US)$116.8 billion. Employing approximately 188,000 people in 185 offices across 65 countries, the company consists of eight independently operated business units: Visual Display, Mobile Communications, Telecommunication Systems, Digital Appliances, IT Solutions, Digital Imaging, Semiconductor and LCD. Recognized as one of the fastest growing global brands, Samsung Electronics is a leading producer of digital TVs, memory chips, mobile phones and TFT-LCDs. For more information, please visit www.samsung.com.