Samsung DualView ST600 and ST100 Break Cover, Due Some Time Soon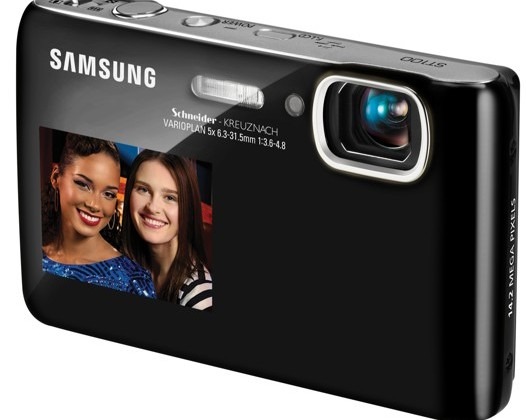 It's camera day, apparently. Hot on the heels of another line-up of cameras getting announced from another company, we've got Samsung pulling the curtain up and revealing two brand new models for their DualView line of cameras. These are the cameras with those front-facing screens, so you can watch yourself take a picture of yourself. Just in case your Facebook needed another drop-down shot of yourself, at least now you'll know your face is perfectly in line. Please welcome the DualView ST600 and ST100 into the family, folks.
Both cameras feature a larger front display, measuring in now at 1.8-inches, and they're packing a 14.2MP sensor with ISO 3200 sensitivity. On the back, you'll find yourself a roomy 3.5-inch display. That display has a gesture-based user interface touchscreen, so hopefully you'll never get bored as you take your next photo. Both cameras also feature 720p video recording, and face recognition software that can pick up to 14 visages on its own, or you can choose up to 6 on your own.
The differences comes in the lens, and price. For the former, the ST600 rocks that 5x wide angle optical zoom, protruding from the face of the camera. While the ST100 has a 5x optical zoom, but it's of the internal variety. As you can see from the image above. As far as pricing goes, the ST100 will cost you a cool $349, and the ST600 $329. No word on when these cameras will actually make it to the retail market, but you should expect to see plenty of colors when they do.
Press Release:
SAMSUNG ADDS VERSATILITY TO DUALVIEW FAMILY WITH TWO NEW MODELS
Never Miss the Perfect Profile Shot with the New Samsung DualView ST600 and ST100
Ridgefield Park, NJ (July 21, 2010) – Samsung Electronics. Co. Ltd, a global leader in digital media and digital convergence technology, today unveiled the latest additions to its DualView camera portfolio, the 14.2 mega-pixel ST600 and ST100. Reinforcing the company's position as a global leader in the digital imaging industry and a driver of innovation, the ST600 and ST100 build off of the success of the TL225 and TL220, offering consumers a stylish design, a full-range of smart and easy-to-use features, and Samsung's revolutionary dual LCD technology.
The new flagship models of the Samsung DualView camera family, the ST600 and ST100 each received an upgrade to their front LCD screens, activated by a simple tap, which now measure 1.8" compared to the 1.5" front LCD screens found on their DualView predecessors. With larger front LCD screens, the ST600 and ST100 make it easier for consumers to properly frame themselves in their photos and videos and be part of the action by stepping out from behind the camera and joining friends and family in front. The Samsung DualView ST600 and ST100 are also available in stylish, mood-inspired colors, including purple (ST600) and pink (ST100), and are encased in a slim and sleek compact frame with a metallic finish to deliver a new sense of fun and modern functionality that will ensure users stand out from the crowd.
"Today's launch is an important landmark for Samsung as it reinforces our position as a leading innovator in the digital camera market," said SJ Park, President of Samsung Digital Imaging Division. "Unlike any other feature found on digital cameras, consumers immediately recognize the value of what our dual LCD technology can do for them. There is no learning curve or technical understanding that must be achieved as it is a natural extension of what our customers are already doing. Samsung is looking to simplify that task with the new ST600 and ST100, ensuring they have the ability to take the perfect profile shot, and never have to miss that perfect picture moment with family and friends, even if they're not behind the camera."
High-Quality Optics and Images
The Samsung DualView ST600 and ST100 come equipped with high-quality Schneider KREUZNACH lenses which are supported by Optical and Digital Image Stabilization to help consumers produce blur-free images. The ST600 combines a powerful 27mm wide-angle focal length with a 5x optical zoom, while the ST100 is the first Samsung DualView digital camera to feature an internal, 5x optical zoom, which keeps the design optimally chic (35mm focal-length).
Innovative and Easy-to-Use Functions
The new ST600 and ST100 feature Samsung's Smart Auto (Still & Movie) scene recognition technology. With Smart Auto (Still & Movie) selected, the ST600 and ST100 take the guess work out of taking a great photo or video. Smart Auto (Still & Movie) analyzes key elements of the composition of the image such as color, brightness, motion and subject and then selects the appropriate scene mode which will produce the best results.
Additional features offered by the cameras' front LCD screens include a self-portrait mode, a couples mode which will automatically snap a photo when it detects two faces tilted toward each other, a children's setting which will play a cartoon animation with sound to encourage young ones to smile for the camera, and a self-timer which provides a visual countdown so that everyone posing for a photo knows exactly when to smile. The newest feature incorporated into the front LCD screen is Samsung's jump shot mode. When set to jump shot mode, the front LCD will provide a visual queue to those in front of the camera to jump in unison, and immediately trigger the ST600 or ST100 to take three consecutive images to help users capture an image that essentially freezes their subjects in mid-air.
The ST600 and ST100 also incorporate Samsung's Smart Gesture User Interface (UI) which allows for the quick access and use of key features with either a simple tilt or a hand gesture. Users can quickly scroll through photos by slightly tilting the device in either direction, swiping their finger across the screen, or by selecting the appropriate photos for a slide show. Managing images is also easy with the ST600 and ST100.