Samsung Drops The GDDR5 Bomb On Everybody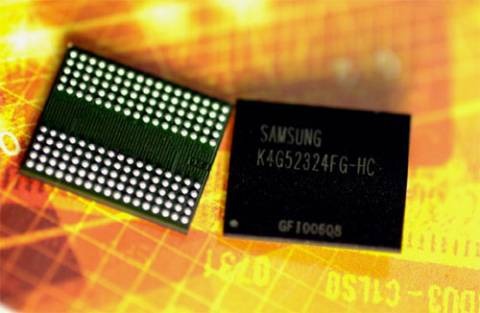 You all probably know GDDR3 fairly well, chances are its not only in your PC, but in your game system as well, that or GDDR4. Well, Samsung has announced that they are dropping GDDR5 sometime next year.
They are already doing tests and that type of thing and they hope to hit market with it in time for Nvidia to stuff it in their new 9000 series cards and ATI to find a spot for it in their 3000 series cards. The memory will be the fastest memory being made when its released, I believe that Rambus has the current fastest at 4.8 gigabits per second, well GDDR5 will be hitting 6 gigabits per second, which is nearly twice the speed of GDDR3 and more power efficient too.
The company says that on a 512 megabit design, with 32 stacked chips, you can hit 24 gigabits of bandwidth, and that's all at 20 percent better power efficiency. Samsung also says that, that kind of performance specs is good enough to play 16 DVDs simultaneously. Full production will begin first half of next year and the tech will hopefully be in over half of all high end graphics cards by 2010.
Samsung develops GDDR5 memory for fast video cards [via electronista]