Samsung does its own drop tests for Galaxy S6, Galaxy S6 edge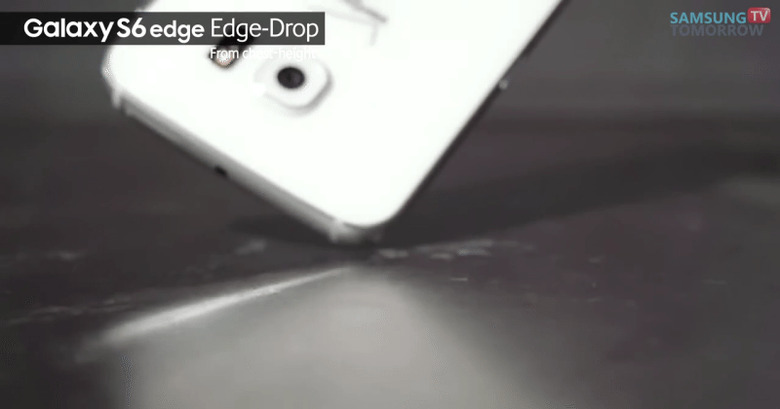 Since users seem to be having a hell of a time taking smartphone endurance tests into their own hands lately, Samsung saw it fit to step in and give it's own "scientific" spin to the torture. After all, who better to know how to properly test a device for real world disasters than the one who made it, right? Regardless of your opinion or belief in such manufacturer-advertised stress tests, Samsung is coming out with a video of its own drop tests for its two flagships. Unsurprisingly, they survived with nary a scratch.
The Galaxy S6 and the Galaxy S6 edge are of particular interests to stress testers because of their particular build. Both have glass backs that could raise concerns when they're dropped flat on the ground. And the Galaxy S6 edge in particular has a display that curves into the edge, which will definitely worry those whore are thinking about scenarios when the phone drops to its edge.
Of course, Samsung is saying there is nothing to worry about. Both smartphones' bodies are sandwiched between Gorilla Glass 4, one of the strongest glass around that isn't sapphire. This means that at a reasonable height and force, the Galaxy S6 and its edgy sibling will survive a drop on the front or back. At least, if it falls flat on the ground and not on any sharp piece of rock.
As for the edges, Samsung claims that the 6013 aluminum frame absorbs the shock first before it hits the glass, protecting the smartphone's display from an edge-first drop. And yes, that works wonderfully well with the Galaxy S6 edge, too, as seen in Samsung's video below.
Samsung does end with a note that, with the right amount of force, anything will break, whether it be your smartwatch or your car's windshield. So unless you're dropping the phones off a building, those expensive Samsung flagships will most likely survive an accidental slip. At least, according to Samsung's tests.
SOURCE: Samsung