Samsung details new 2012 camcorder range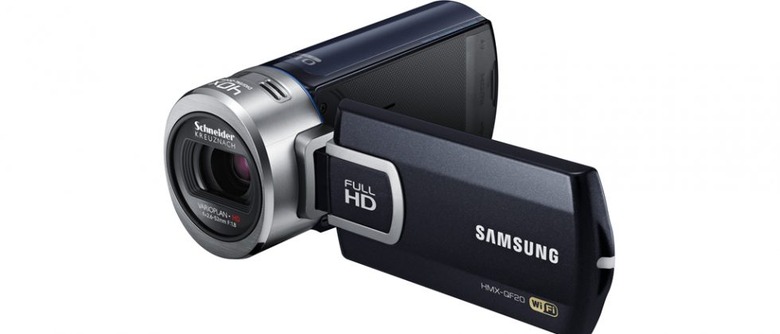 Samsung announced new WiFi-connected SMART cameras earlier today and now the company highlights its strong camcorder line-up. The range is led by the QF20, which we talked about previously as being Samsung's first camcorder with WiFi-connectivity. Other camcorders in the range include the Q20, F80, and the W300.
The Q20 and the QF20 are similar in form factor with the QF20 having the advantage of being WiFi-enabled. They both features a new Switch Grip II that includes Vertical Recording with three recording angles. However you hold the camera, the G-magnetic sensor can recognize the angle and adjust the LCD display accordingly for easy viewing. The Q20 supports 1080i Full HD recording, 20x optical zoom, and touchscreen LCD.
The F80 also has a compact portable form factor similar to the Q20 and QF20, but features 1280 x 720 30p recording with a 1/3.2" 5-megapixel CMOS sensor and 1080i video upscaling via HDMI. It offers 52x optical zoom and 65x intelli-zoom.
The W300 is a rugged camcorder for sports and outdoor enthusiasts that can capture 1080/30p Full HD video with great low-light shooting thanks to its 5M BSI CMOS sensor and F/2.2 Bright Lens. It is waterproof for up to five meters, shock-proof from a height of up to two meters, and dust-proof.