Samsung denies Galaxy Note 3 exaggerates performance on benchmarks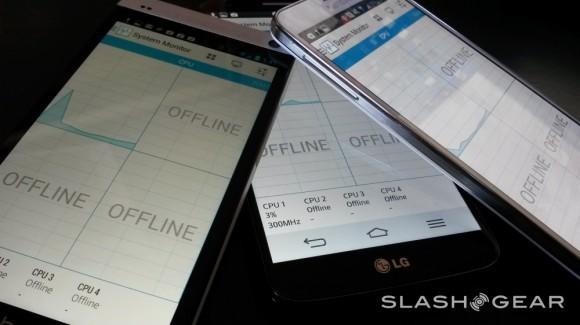 Samsung has been in a bit of hot water over alleged benchmarking shenanigans this week. Reports surfaced claiming that the Samsung Galaxy Note 3 exaggerates performance when popular benchmarking applications are running. We performed our own testing and found that Samsung isn't the only smartphone maker that might be exaggerating performance.
The Galaxy Note 3 has been accused of turning up all four cores to the highest possible 2.3 GHz frequency when running popular benchmarking applications. Those popular benchmarking applications include Geekbench, Quadrant, and AnTuTu leading to impressively high scores. The cries of foul play came in the fact that if you run a renamed version of those same apps, most of the cores inside the Note 3 CPU remain idle. That suggests Samsung is trying to manipulate results in popular benchmarking applications.
The allegations claim that the core boosting was reserved only for a named list of benchmarking apps. Samsung has officially responded to these allegations stating:
The Galaxy Note 3 maximizes its CPU/GPU frequencies when running features that demand substantial performance.

This was not an attempt to exaggerate particular benchmarking results. We remain committed to providing our customers with the best possible user experience.
Samsung has previously been under fire when it was suggested that the Galaxy S4 also ramped up its cores when benchmarking applications were run. Interestingly, it seems Samsung didn't need to perform this alleged benchmark fiddling because the Note 3 performed better than its rivals without boosting CPU core speed.
SOURCE: CNET