Samsung Continuum Hands-On & Unboxing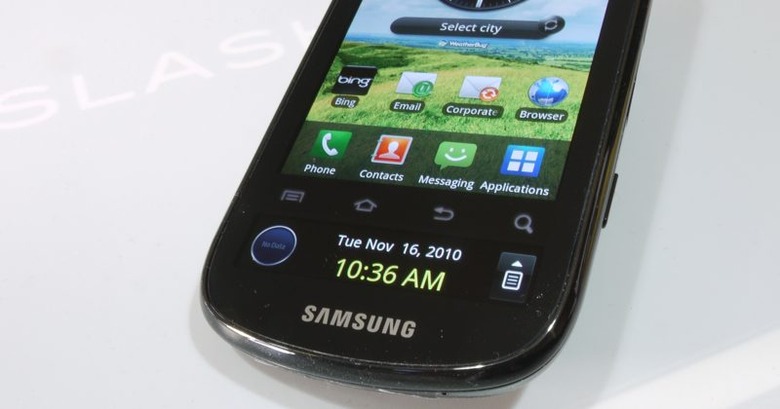 Verizon's latest Android smartphone, the Samsung Continuum, has landed on the SlashGear test bench, and though we've seen our fair share of cellphones in recent months, the Continuum's dual-displays are still leaving us curious about usability. Another from Samsung's growing range of Galaxy S family devices, the Continuum puts a 3.4-inch Super AMOLED primary screen on top and then a smaller, 1.8-inch "Ticker" display control bar and info panel underneath. Check out the unboxing and some first impressions after the cut.
The two panels aren't actually separate screens; in fact, Samsung has used one large Super AMOLED and then segmented it with a printed button bar across the lower half. The display's own backlighting is what illuminates the menu, home, back and search buttons, but thanks to the Super AMOLED technology Samsung can save energy by leaving the majority portion black while the Ticker is active.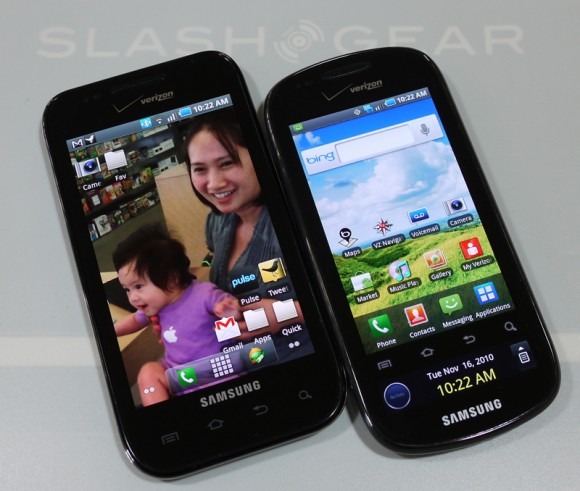 Altogether it's a smaller device than previous Galaxy S handsets – Verizon expect it to be more popular with female users than earlier models – and fits nicely into the hand. The case still feels relatively plasticky, though, which makes for a lightweight phone but not one which feels as rugged as, say, HTC's recent models. Samsung's 1GHz Hummingbird processor makes another showing, and it keeps Android 2.1 running slickly. We're disappointed to not see Froyo on the Continuum, and Samsung hasn't said when we can expect a software update or, indeed, whether it might arrive before Gingerbread is on the scene.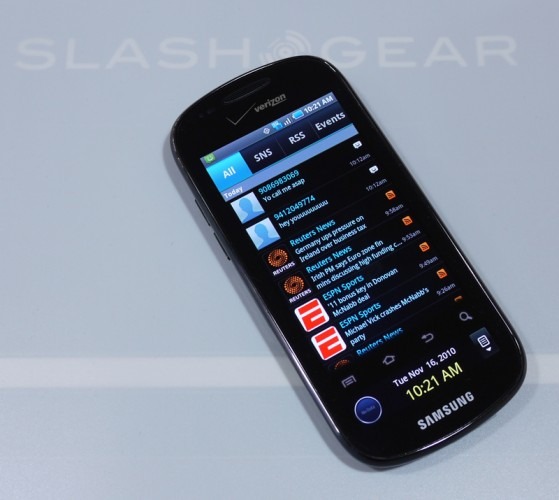 So far the Ticker is eye-catching but is yet to prove its worth; it's too early to tell whether it will have a significant affect on battery life by reducing main-screen use. It'll also depend in part on developer support, and that's partly down to Samsung's commitment to keep using the system. If only the Continuum gets a secondary display, then we can't see third-party developers coming up with custom apps that cater to it.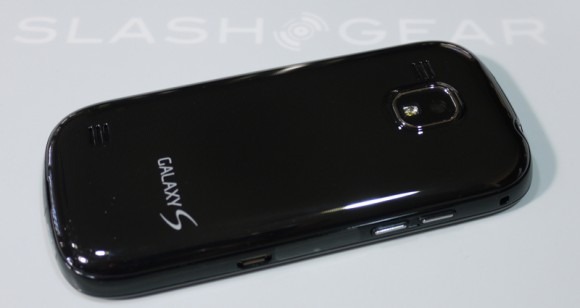 We'll be putting the Continuum through its paces in preparation for the full SlashGear review, so until then enjoy the demo video and image gallery below.
[vms a4693b9eec507d9d3744]