Samsung confirms 720p HD device: IFA 2011 tablet incoming?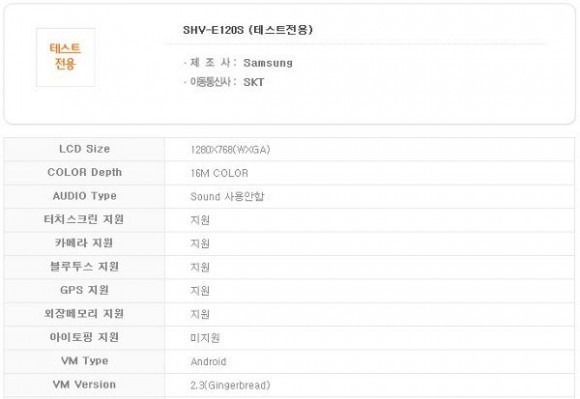 A new device has landed on the Samsung Developer Center and it has little in the way of details. The listing gives a part number of SHV-E120s. There is no mention of if the listing is a smartphone or a tablet. The screen resolution is listed as 1280 x 768 with 16 million colors. Geeks love a good new gadget mystery and this is one of the better ones we have had lately.
The listing also shows that the tablet will use Android 2.3 Gingerbread. Some think we are looking at a new smartphone that would be the highest resolution Samsung has ever offered. I may be proven wrong down the road, but I don't think we are looking at a smartphone. I think this is a tablet that will surface at IFA in a few weeks.
The resolution of 1280 x 768 puts this device right between the Galaxy Tab 7 and the Galaxy Tab 10.1. We already know Samsung has plans on launching the Galaxy Tab 8.9 and back in May when Amazon in Russia put the device on its site the resolution for the screen was pegged at 1280 x 800. My money says the mystery listing today is the Galaxy Tab 8.9. What do you think?
[via Android Community]