Samsung Chromebook Series 5 550 and Chromebox Series 3 power up the OS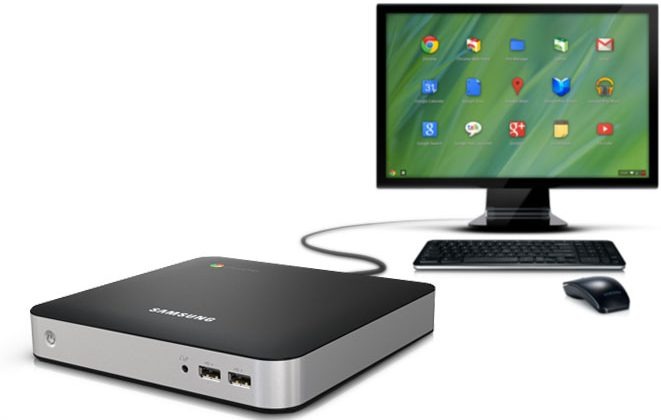 This week Samsung has released information and availability on their next two big Google Chrome OS-toting devices, namely the Chromebook Series 5 550 and the Chromebox Series 3. Both of these devices have been given an upgrade in look as well as in hardware, most notably in their upgrade to Intel Celeron processors (Sandy Bridge) for a major boost in power. The Chromebox totes a lovely 1.9GHz dual-core Intel Celeron B840 (Sandy Bridge) CPU while the Chromebook comes with a 1.3GHz dual-core Intel Celeron 867.
The Chromebook Series 5 550 comes with a 12.1-inch display at 1280 x 800 pixel resolution and comes toting a what Samsung says will be six hours of battery life. This device has 4GB of memory, two USB 2.0 ports, HD webcam up top, and DisplayPort++. The Chromebook Series 5 550 model also has a 4-in-1 memory card slot as well as a Kensington lock port – so you're good to go on the go! You've also got Gigabit Ethernet as well as a combination of Wi-fi and 3G for data or just Wi-fi alone.
This Chromebook is fabulous on its own, but why not also pick up a Chromebox as well? This device looks extremely similar to what Apple fans know as the Mac Mini, having instead a fully operational new version of Google's Chrome operating system running here instead of Mac OS X. This device has 2x DisplayPort++ outputs – that work with HDMI, DVI, and VGA – and has a single link DVI output port as well. This device is Bluetooth 3.0 compatible, Kensington key lock compatible, and has six USB 2.0 ports. You've got gigabit ethernet onboard as well as dual-band Wi-fi, and 4GB of RAM to keep you rolling hard.
The Chromebook Series 5 550 from Samsung is available now via Google's online hub starting at just $449 USD. The Chromebox from Samsung is also available via Google's Online Hub for a lovely low price of $329. Grab em both!