While Samsung may have been one of the earliest adopters of Google's Chromebook vision, it has languished in recent times compared to other more enthusiastic Chromebook makers. At CES 2017, however, it has returned with a vengeance. Chromebooks that can fold into tablets are nothing new. But one that also has a stylus to boot? Practically unheard of. And that is exactly what Samsung is bringing to the table. And even better, it is coming with Android apps as well, before other existing Chromebooks can get their hands on them (officially, that is).
It was really no secret that Samsung would be pulling this off and it was really more a question of when rather than if. Or perhaps it was also a question of "why". Compared to the likes of Acer and ASUS, Samsung doesn't exactly strike you as a staunch Chromebook supporter. And yet it might have just given the product line a much-needed lifeline.
The Chromebook Plus and the Chromebook Pro will boast of two particular features, one of which no other Chromebook has so far. Or probably ever. Samsung has brought its S Pen, simply referred to as a "pen" here, from its Galaxy Note line of Android devices to Chrome OS. This is no plain capacitive, rubbery stylus, mind you, but one that boasts of pressure sensitivity the likes that Wacom's digitizers can provide. And it also has a slot for the pen so you won't lose it.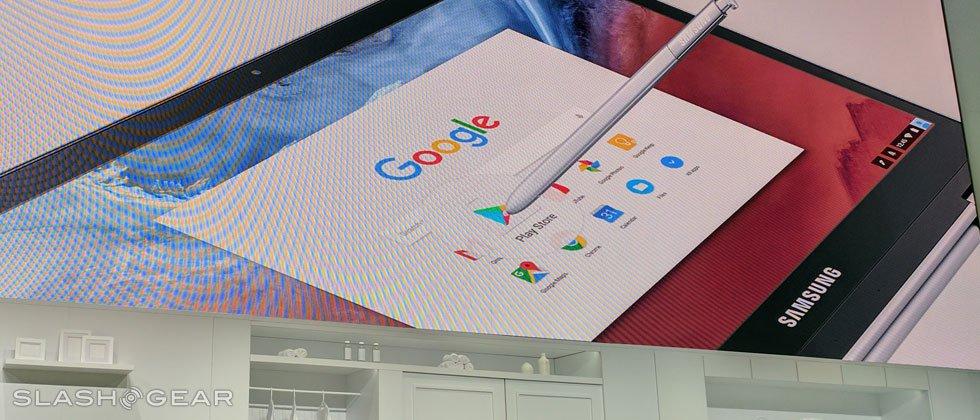 That feature, however, might be lost on Chrome apps, as they weren't exactly designed with a stylus in mind, or at least most of them aren't. Good thing, then, that Samsung and Google have joined forces to bring Google Play Store support to both new Chromebooks. That feature is still in beta, of course, but so far very few have officially supported it. In fact, it might ruffle some feathers that a new Chromebook is getting it before those that are already in the market and in users' hands.
The specs of the Chromebook Plus and Pro are pretty high-end as well, at least as far as Chromebooks go. The 12.3-inch touch screens boast of 2400×1600 pixel resolution, which produces a 3:2 ratio, which is somewhat odd for a Chromebook. There's 4 GB of LPDDR3 RAM and 32 GB of expandable storage. What sets the Plus and Pro models apart is that the Chromebook Plus runs on a 2 GHz hexa-core ARM processor while the Chromebook Pro will have an Intel Core m3.
The Samsung Chromebook Plus will be available starting February with a price ta of $449. The Chromebook Pro, on the other hand, won't be coming until Spring for a still undisclosed price.