Samsung Blu-ray player BD-P 3600 show up in store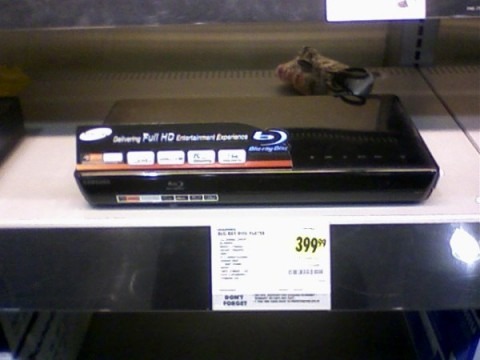 Back in CES 2009, Samsung threw a mix of wall-mountable 1.5-inch thin and a low-profile tabletop Blu-ray desks with more substances than the unique design. In additional to the BD-Live, Dobly TrueHD, DTS-HD MA internal recorder; it also comes equipped with WIFI dongle, and is networked to feature Netflix and Pandora streaming services. Price and availability were scant at that time. Today, one of them, the P3600 is showing up at Best-buy B&M store according to comment left from an allegedly Best-buy employee at Engadget.
"Our store has the 1600 ($299) and 3600 ($399). Very nice players. Ultra-fast loads and very well designed overall"
Though there's no record of such model presently listed at BB online store, they got photos with a price tag of $399 to prove it.