Samsung Bigfoot Android phone for T-Mobile coming "really soon"?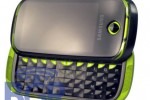 Samsung are, unsurprisingly, saying nothing right now, but according to the latest leaks you're looking at their upcoming Bigfoot Android smartphone for T-Mobile USA's network.  First tipped on the leaked T-Mobile roadmap as arriving in Q3 2009, the Bigfoot is expected to have a 3-inch AMOLED capacitive touchscreen together with a slide-out QWERTY keyboard with stereo speakers.
Other specifications are suggested as UMTS/HSDPA connectivity, and the Bigfoot is assumed to include WiFi, GPS and Bluetooth connectivity.  There's also a 3-megapixel camera onboard.
Most interesting of all, according to the Boy Genius Report we can expect to see the Bigfoot sooner rather than later.  Their tipster tells them that the smartphone is set to arrive on T-Mobile USA "really soon"; no telling exactly how soon that is.
[via Android Community]