Samsung audio dock details leaked, rumored for CES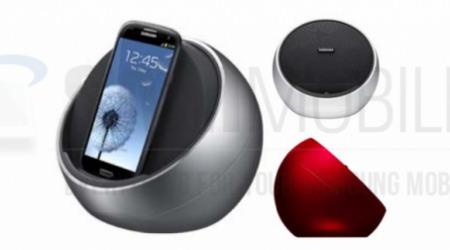 An audio dock from Samsung has been leaked over at SamMobile, where a fuzzy image and precious few specs have been posted. Rumor has it we'll see the device next month at CES, although nothing official has been stated by its Korean maker. The audio dock supports various smartphones, including the mega-popular Galaxy S III.
Personal taste notwithstanding, the dock is pretty snazzy looking, like a speaker partially submerged into whatever surface you place it on. Although the image seems to show off silver, white, and red versions of the speaker, the leaked details say that it will be offered in red, black, and white. The phone is docked in front of what appears to be a single large speaker, but is in reality two 3W speakers.
Specs are said to be 6W of total output, which will make the speaker loud enough for your average user, but not exceptionally powerful. There's a 3.5mm audio stereo connection cable, a charging port, and power and volume buttons. Connectivity is Bluetooth 3.0, and there's microUSB for keeping things charged during those long music sessions as well as wired connectivity.
According to SamMobile, Samsung will be showing the device off at the Consumer Electronic Show next month, or possibly at MWC. After the launch, it is expected to hit shelves sometime during the the first quarter of 2013. We'll be covering CES 2013, so stay tuned for the latest updates and possibly a first-look review of this speaker dock.
[via Android Community]