Samsung ATIV Tab 10.1 Windows RT tablet announced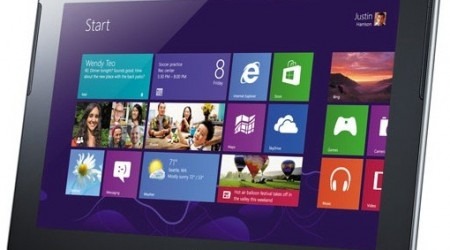 Samsung is extremely busy here in Berlin dropping all sorts of juicy news onto the world. Following the excitement around the Galaxy Note II they've now moved onto Windows. The folks from Samsung have just introduced the ATIV Tab 10.1 Windows RT device. It looks very similar to the Galaxy Note 10.1 but runs on Windows.
We are live here in Berlin catching all the details, and will continue to bring you anything and everything Samsung related as the day continues. What you see above appears to be a relatively close cousin to the recently announced [and reviewed] Galaxy Note 10.1 tablet only running atop Windows RT instead.
There are a few important and notable differences though. The Samsung ATIV 10.1 won't be quite as powerful, and the display isn't as nice either. They are hopefully aiming for a more budget minded crowd with this one. The Samsung ATIV 10.1 Tab with Windows RT comes complete with a 10.1-inch 1366 x 768 resolution display, and tosses out Sammy's quad-core for a 1.5 GHz dual-core processor. The camera on the rear has been improved from recent Samsung tablets and will be 5 megapixels on the rear — followed by a 1.9 shooter frontside.
The details are still light and the story is developing as we are watching Samsung unveil all their goodies here live. The ATIV 10.1 will come with HDMI, USB, is super skinny and weighs only 1.2 lbs. Hopefully we'll hear more about pricing and availability shortly after Windows 8 launches at the tail end of October. Stay tuned to our IFA 2012 Hub for all the latest and greatest news!