Samsung ATIV SE hits Verizon pre-order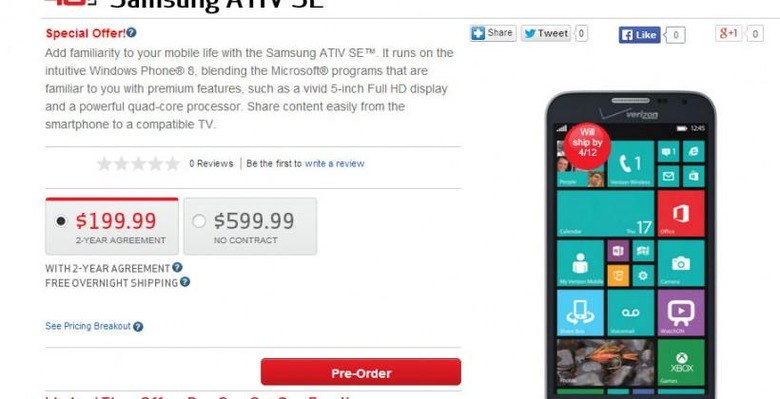 Samsung is one of the leading smartphone makers in the world and leads many markets on the back of smartphones like the Galaxy S5 that run Android for the operating system. The popular Galaxy S5 hit pre-order late last month. Another new smartphone from Samsung is now up for pre-order at Verizon and this one is something a bit different.
Rather than using Android like most Samsung devices, this is a Windows Phone 8 smartphone. The device is called the Samsung ATIV SE. Buyers who want the smartphone can get it with a new 2-year agreement for $199.99. The no contract price for the device is $599.99. Verizon is also offering a buy one get one free deal if you agree to a 2-year contract for each smartphone.
Samsung crams a 2.3GHz quad-core processor under the hood and the phone uses a 5-inch full HD resolution AMOLED display. The rear camera for the ATIV SE is a 13MP unit that can be used easily when the phone is locked so you won't miss a photo. A 2MP front camera supports video chat and selfie shooters.
Power comes from a 2600 mAh internal battery that is removable. Samsung builds-in 16GB of storage and the quad-core processor is mated with 2GB of RAM. Memory expansion via a microSD card is supported and Bluetooth 3.0 is built-in.
SOURCE: Verizon Wireless