Samsung ATIV One 5 Style official: Largest ATIV yet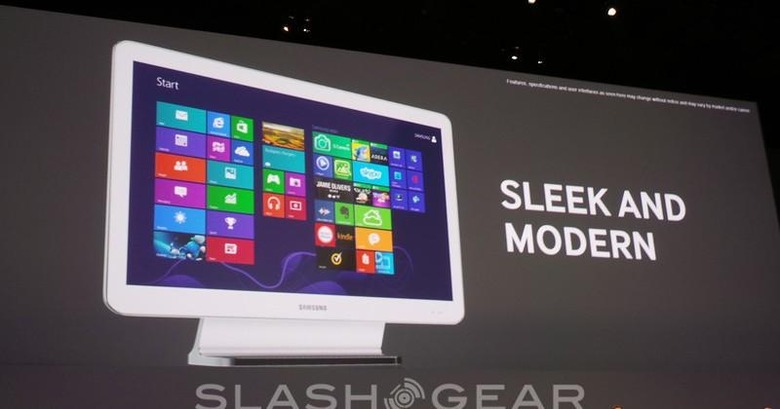 We've already seen a number of new Samsung ATIV devices being unveiled today, but the company just dumped an all-in-one on us, and they're calling it the ATIV One 5 Style. It's a desktop computer with the internal components built inside the display unit (as most all-in-ones are), but the One 5 Style sports a really thin profile.
The ATIV One 5 Style features an AMD A6 quad-core processor with integrated graphics, paired up with 4GB of RAM (which seems to be the sweet spot for Samsung with these new ATIV products). The computer sports a 21.5-inch display that has a 1920x1080 resolution, and it's all touchscreen-capable.
If the computer looks familiar, that's probably because it is. It has the same white plastic shell of many of Samsung's mobile devices, so if you're already deep into the company's ecosystem and want everything to match, the desktop will fit in with your current collection of Samsung products, unsurprisingly.
As for ports, the ATIV One 5 Style has two USB 2.0 ports, two USB 3.0 ports, Ethernet, a single audio jack, and both HDMI in and out. This allows you to hook up a set-top box to the desktop and use it as a television of sorts. Obviously, it's running a full version of Windows 8, and there's no word of an accompanying keyboard and mouse, so we're not sure if Samsung will include one or if users will have to fend for themselves. Either way, the ATIV One 5 Style arrives in the UK sometime "later this year," and pricing details have yet to be disclosed.