Samsung ATIV Book 9 Pro and Spin: 4K laptop, transformer notebook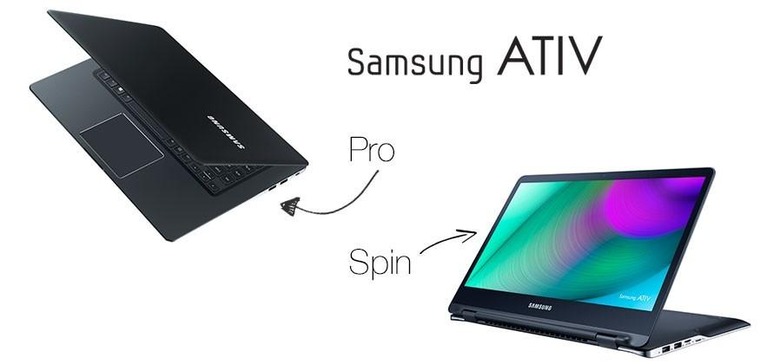 Samsung has updated their line of ATIV notebooks with a couple of hard-hitting devices made with extremely sharp displays. The ATIV Book 9 Pro works with a 15.6-inch 4K display (that's 3840 x 2160 pixels) with touchscreen abilities. The Samsung ATIV Book 9 Spin works with a 13.3-inch display with QHD+ resolution (that's 3200 x 1800), touchscreen, and the ability to fold back over itself 360-degrees to achieve several display modes. Both machines will run Windows 10 and will be released very soon.
Above and below you'll see the ATIV Book 9 Pro. You'll also see the ATIV Book 9 Spin. You'll notice the differences immediately. Compared to the "Spin," the Pro model looks like nothing all that flashy – but it's got the power to back up its Pro claim.

The ATIV Book 9 Pro comes with an Intel Core i7 processor 6700HQ while the Spin has an Intel Core i7 processor 6500U. If you don't know the difference between those two processors offhand, it probably won't matter which one you get.
The larger device is the Pro at 14.72 x 9.83 x 0.7 inches, while the smaller is 12.39 x 8.69 x 0.59 inches. The larger weighs JUST a bit more than the smaller at 4.45 lbs compared to 2.87 lbs, while both devices have the same amount of system memory and storage, at 8GB and 256GB SSD SATA3.
The Pro works with an NVIDIA GeForce GTX 950M graphics processor (2GB GDDR5 included). You'll find Intel HD Graphics 520 inside the Spin with shared memory.
ABOVE: Several ways in which the Book 9 Spin can be folded.
The Pro works with a quad speaker system and the following set of ports: I/O button, SD card reader, HP/mic, 4K HDMI output, 3x USB 3.0 Type A (USB-A), 1x USB 3.1 Type C (USB-C). The Spin has 3x USB 3.0, HDMI output, microSD card reader, HP/mic, power button, and a volume up/down button.
The Samsung ATIV Book 9 Pro will be available for $1,599 MSRP starting in November of 2015 (that's this month). The ATIV Book 9 Spin will also be available starting this month and will cost $1,399 MSRP. Both models will be available through Samsung online and at Best Buy stores throughout the United States.