Samsung AQ100 waterproof & SL605 durable cameras announced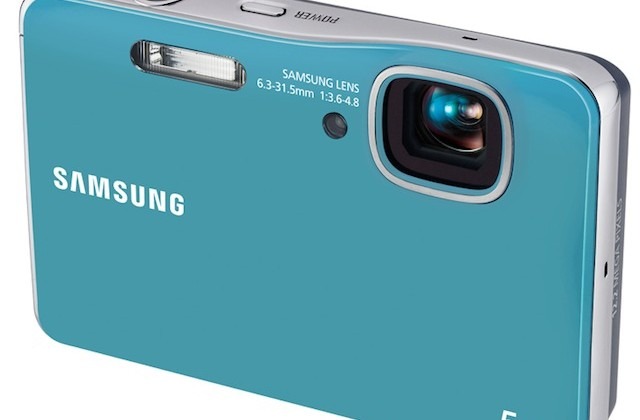 As well as the somewhat sober looking TL500 and TL350, Samsung have also brought along a batch of more colorful compact cameras to PMA 2010.  The Samsung AQ100 is a waterproof shooter while the Samsung SL605 is a so-called durable one, each packing 12-megapixel sensors along with 5x optical zooms and 2.7-inch LCD TFT preview displays.
The AQ100 can be used in up to 10 feet of water, and records 720p HD video along with stills.  It has various "smart"auto modes, along with face detection and smile shot, and measures 3.7 x 2.4 x 0.7 inches; it'll go on sale this spring for $199.99.
As for the SL605, it's not exactly rugged but it does have a scratch-proof casing and rubberized bumpers.  You don't get the HD video recording of the AQ100 – it'll only shoot VGA 30fps MJPEG footage – but there's a smart night mode and the rest of the automatic functionality.  It will also go on sale in the spring, priced at $129.99.
Press Release:
SAMSUNG ANNOUNCES PAIR OF DURABLE COMPACT CAMERAS ALLOWING USERS TO GET ADVENTUROUS WITH THEIR PHOTOS

Waterproof AQ100 and Durable SL605 Offer High-End Features in Protective Frames

Anaheim, CA (February 20, 2010) – Samsung Electronics America, Inc., a market leader and award-winning innovator in consumer electronics, today added two 12 mega-pixel point and shoots to its digital camera lineup for 2010 – the durable SL605 and the waterproof AQ100. Thanks to their elements focused design, the AQ100 and the SL605 grant peace of mind and allow users to focus on taking the perfect shot, rather than worrying about damage to the camera. The AQ100 and the SL605 will be on display during PMA 2010, February 21-23, in the Samsung booth, #2227, in the Anaheim Convention Center.

"Memories can happen at any given moment and in any environment," said Mr. SJ Park, CEO of Samsung Digital Imaging Company. "Further diversifying and expanding the range of digital imaging solutions available from Samsung, consumers can rely on these durable compacts to perform in the most challenging of environments as they're both built to last and feature packed for the highest-quality results."

AQ100

Offering extraordinary capabilities, the slim (0.78" thick) AQ100 was developed for use in up to 10 feet of water and thanks to the camera's exceptional low-light performance, it's capable of taking bright images at that depth. Whether taking photos of friends and family in the pool or a school of fish while snorkeling in the ocean, users will benefit from the AQ100's dedicated Aqua mode, which will optimize camera settings for the best possible underwater photos.

A powerful camera on land or in water, the AQ100 boasts an ample, 5x optical inner zoom lens complete with Digital Image Stabilization to help reduce blurry images. Additionally, the AQ100 features a bright, 2.7 inch TFT-LCD screen for framing and reviewing images.

In addition to taking beautiful still images, consumers can also record impressive 720p HD video above or below the water. The AQ100 offers image stabilization while recording video and for complete simplicity, it has Smart Auto (Still & Movie) scene recognition technology which fine tunes both video and picture settings for the best possible results. All the users have to do is point and shoot.

SL605

The new SL605 was designed with durability in mind, and offers consumers Samsung's Anti scratch Mask, which safeguards the camera from any unwanted scratches during everyday use. Furthermore, key areas of the Samsung SL605, including the bottom, buttons and areas surrounding the 2.7-inch TFT-LCD (230,000 pixel), are rubberized to further protect the camera from elements such as dust, dirt or sand.

Beyond its durability, users will also benefit from the Samsung SL605's internal 27mm wide angle, 5x optical zoom lens, which gives them the ability to take sharp and detailed images from any distance. With a wide-angle lens at their fingertips, users will be able to capture more of a desired scene, such as landscapes or large groups of friends and family. The SL605 offers standard definition, VGA video recording and also features Samsung's intuitive and easy-to-use Smart Auto scene recognition technology.

Samsung has also incorporated a Smart Night Mode in the new SL605, which will allow consumers to capture sharp, properly exposed images when shooting at night. Typically, a flash can be too bright and wash out one's subject when used in low-light or night-time settings, ruining what could have been a great image. With Samsung's new Smart Night Mode, this is no longer an issue as consumers can now increase or decrease the power of the flash to ensure the perfect shot, the way they want, each and every time.