Samsung Announces The Galaxy Grand Smartphone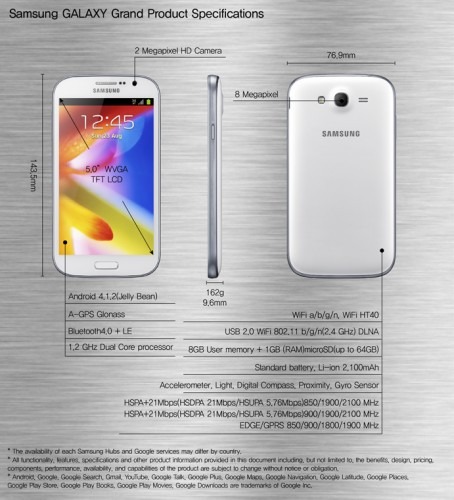 In case the Galaxy Note II, Galaxy S3, or any of the other recently launched Samsung phones aren't to your liking, the Korean company has just announced the upcoming Galaxy Grand, a handset that appears similar to an updated, tweaked Galaxy S3 with slightly better features and a very similar design. The handset is said to launch in both dual and single-sim varieties, but there's no word on when we can expect them.
The Grand features a 5-inch TFT LCD with WVGA resolution, as well as a 2-megapixel front-facing camera and an 8-megapixel rear camera. The handset weighs in at 162 grams, and sports a white body that looks like most of the recent Samsung smartphones floating around the market. It has an accelerometer, gyro sensor, digital compass, and proximity.
Inside you'll find a 1.2GHz dual-core processor and 1GB of RAM, as well as 8GB of internal storage space and a microSD expansion slot that supports up to 62GB. There's Bluetooth 4.0 + LE connectivity, as well as 802.11b/g/n 2.4GHz DLNA Wi-Fi. Present as well is HSPA+ 850/1900/2100MHz and EDGE/GPRS 850/900/1800/1900MHz.
Features include Direct Call, which allows users to auto-dial when the phone is raised to one's ear. There's Smart Alert, with offers notifications when the phone is picked up. Popup Video places videos in their own popup screen while other activities are going on; there's S-Voice and AllShare Play as well. The Dual SIM version of the Galaxy Grand will be launched first, followed by the single-SIM version.
[via Samsung]