Samsung announces 8 new data projectors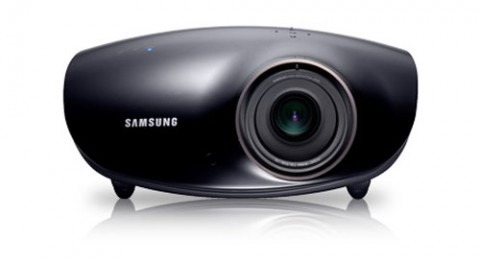 Samsung certainly was busy yesterday! They announced eight new data projectors across four different series. That's enough to make our heads spin! But they're all worth mentioning and span the gamut from classroom-sized to home media viewing capable.
First up is the P400, which is portable and can be moved around easily with 150 ANSI lumens, LED light source, a 30,000 hour bulb, RCA and VGA inputs, a built-in speaker and tripod mount. There's also the L220 and L300, which are both great for conference or classroom use, featuring 2,200 lumens and 3,000 lumens, respectively. Also included is 3LCD light processing, stereo speakers, VGA and composite inputs and an HDMI input on the L300.
Next up are the D300 and D400, which offer 3,000 and 4,000 lumens of brightness, respectively and feature HDMI, VGA, component and composite inputs. Both also have a 3,000:1 contrast ratio. There have also been additions to the A-series with the A400, A800 and A900 featuring 2,500:1, 10,000:1 and 12,000:1 contrast ratios, respectively. They all have VGA, component, S-video, composite and HDMI inputs. HD is supported. You can get several of these projectors now including the P400, D400, D300 and L300 priced at $700, $2,000, $1,000 and $1,100, respectively. We don't know when the A400, A800, A900 or L220 will be released or how much they will cost yet but we'll be sure to keep you posted.