Another schedule listing the expected dates that Samsung's Galaxy devices will getting updated to Android Marshmallow has leaked, this time with details on the Note 5 and the Galaxy S6. This is good news for the owners of Samsung's latest smartphone models, as their wait is nearly over. However, there is some bad news for owners of older Galaxy models, as once again it seems the S4 and older will not be receiving Marshmallow.
The full list can be seen below, but the Samsung Note 5 is due to be updated in December, just a few weeks away. Unfortunately the Galaxy S6 Edge+, which was also expected for December last we heard, has been pushed back to January 2016, putting it alongside the standard Galaxy S6 and S6 Edge models.
Moving on to February, the Note 4 and Note Edge are scheduled for Marshmallow, which is unchanged from the last leaked timeline. As for the Galaxy S5, while it was pending approval before, it has at least been approved for Marshmallow, but won't be updated until April 2016. Similarly pending was the Galaxy A8, which is now listed for March.
While the Galaxy S4 and Note 3 are confirmed on the scheduled as "not approved," other devices, such as the Galaxy Tab S2, Tab S, and Tab A tablet models are listed as waiting approval, and should be receiving Marshmallow in the next rollout over the coming months.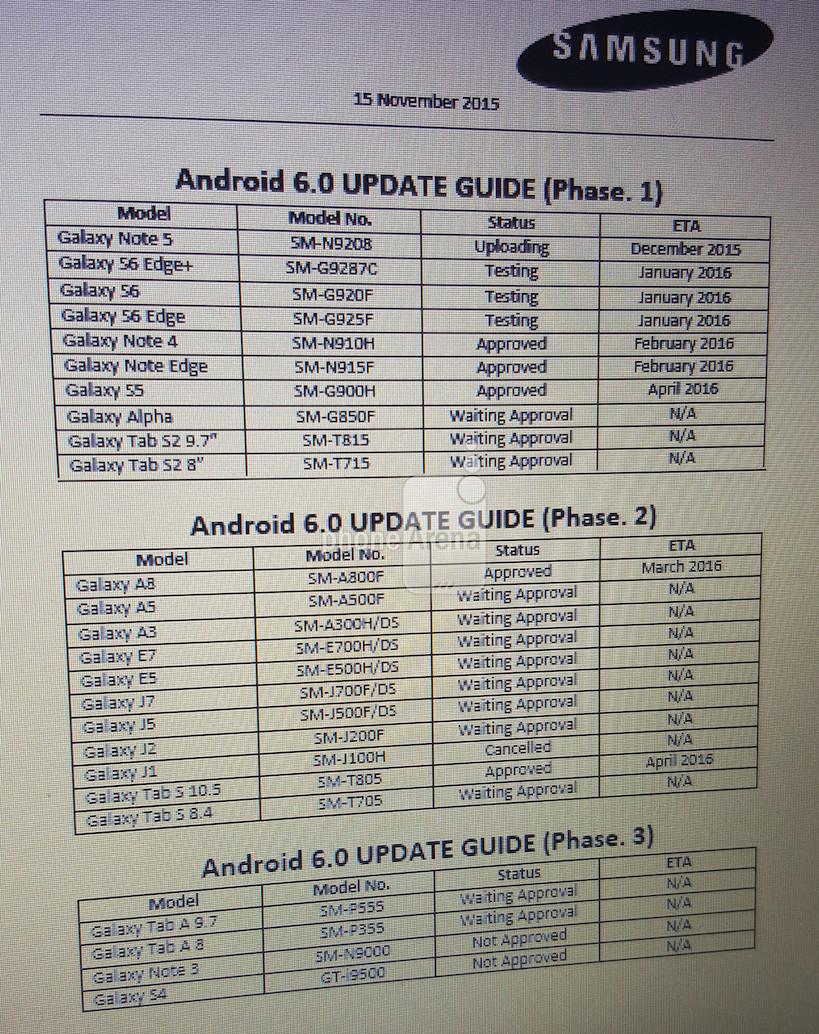 SOURCE PhoneArena