Samsung and Six Flags team again, this time for a gaming VR rollercoaster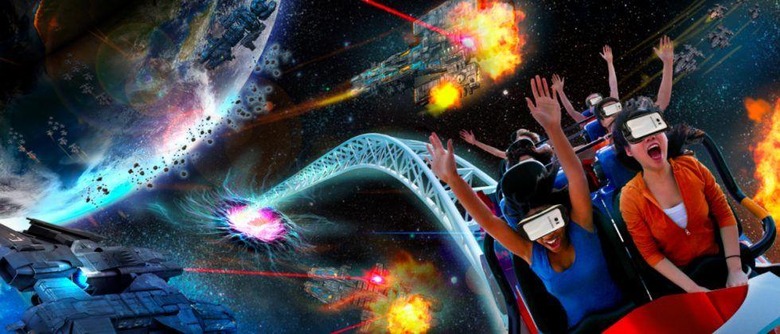 As we've previously reported, Samsung has teamed with Six Flags theme parks to introduce virtual reality rollercoasters — that is, real-life rollercoasters on which riders wear the Gear VR headset to experience an entirely new fantasy world during the ride. A total of 12 rollercoaster VR experiences were introduced at various Six Flags parks, and now the two are back at it again, this time adding gaming into the VR coaster mix.
Thus far, the VR rollercoasters have been designed to show riders a special fantasy world while they zoom around the contraption. This time around, the newly revealed "The New Revolution Galactic Attack" rollercoaster will be similar, but riders will also be playing a game and receiving a score once the coaster reaches its end.
This time around, the headsets will be presenting riders with both augmented ("mixed") reality and, later on in the ride, total VR. The mixed reality will show a HUD-like display in which current weapon status and such is shown. As riders get over the first hill, though, the augmented reality will disappear and the space VR simulation will appear.
Gamers will be battling against drones and artillery fire, and will enter into a trio of drone bays at various points, where the game continues. Six Flags says the game will have its opening weekend on February 18 to 20th, though the public launch will come a week later. The ride will be available at the parks near both Los Angles and San Francisco.
SOURCE: Six Flags