Samsung and Armani partner up for new LCD Television - for the brand-whore in you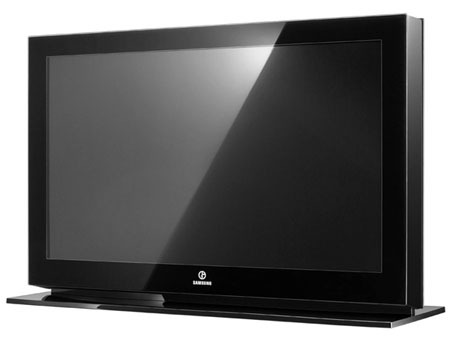 The screen stats are as follows: they are 1080p LCD panels, they come in 46 or 52 inch sizes, and they have a 100MHz refresh rate, HDMI ports, and a color changing logo on the TV. They also come with two remotes, a small pebble-shaped one that does the basics of changing channels and upping the volume, the second is a larger backlit one that controls everything, hence-forth referred to as the Uber-mote.
So, basically the TV's themselves aren't that big of a deal. However, they were designed to match Mr. Armani's upcoming 2008/2009 furniture line, so if you plan on investing in that stock, this TV would help your entertainment room match completely.
As I said, the logos of both Samsung and Armani are on the front of the TV and have 4 different colors they can be lit to that you get to select. The 46-inch model will be dropping in Europe sometime this summer; the larger model won't be seen in your local retailer until later in the season. So they aren't bad TV's by far, but they are best suited in rooms with one or more of Armani's other pieces in it.
[via reghardware]