Samsung and Amazon announce streaming video on demand for select Samsung TVs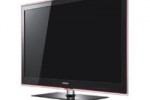 Streaming video rentals are growing significantly and many think that the future of movie rentals and purchases may be streaming digital formats. Samsung and Amazon announced today that they two have teamed up to provide users of certain Samsung HDTVs streaming access to the Amazon VoD library.
Users of Samsung LCD and Plasma Series 650 and higher and Samsung LED series 7000 HDTVs can now download the Amazon Video on Demand Widget at no charge via the Internet@TV content feature on their sets. The widget allows the user to access the Amazon library of 50,000 films and TV shows.
The programs are available to rent or purchase on demand. Amazon says that 2,000 of the titles are available in HD resolution, some of the content is new release films, and TV shows are often available the day after they broadcast on TV. Naturally, you need an Internet connection to use the service.