Samsung and Alipay team to expand Samsung Pay in China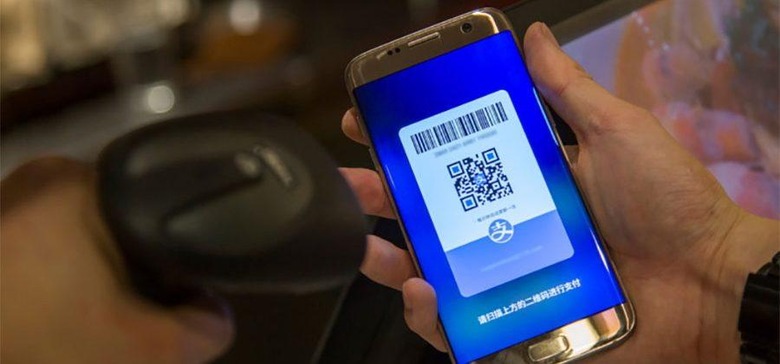 Samsung Electronics has announced a partnership with the parent company of Alipay called Ant Financial Services Group that will expand Samsung Pay in China. Under this new partnership, users can add an Alipay account on supported Samsung mobile phones via Samsung Pay. After registering the Alipay account in Samsung Pay, users can pay with their mobile phone by swiping up from the lock or home screen or sleep mode, choosing the Alipay QR code, and scanning it on the scanner at the register.
"We are excited to be working with Alipay to expand Samsung Pay services in China," said Injong Rhee, EVP and Head of R&D, Software and Services of Mobile Communications Business at Samsung Electronics. "The reception of Samsung Pay since its launch has been extremely positive and the service has already seen tremendous success in terms of availability and adoption by consumers. We ultimately want to make Samsung Pay available to as many consumers as possible around the globe, so that everyone can have the opportunity to enjoy the simplicity, safety and convenience of this mobile payment solution"
Samsung Pay is supported on the Galaxy S7, Galaxy S7 Edge, Galaxy S6 edge+, Galaxy Note 5, Galaxy Note A5 (2016), Galaxy A7 (2016), Galaxy A9 (2016), and Galaxy A9 Pro in China. Support may land for additional models of Samsung smartphones in the future. Alipay is a leading third party payment platform in China with a large user base.
Fan Zhiming, President of Payment Business Unit at Ant Financial, said, "Alipay covers the vast majority of online payment use cases. At the same time, it also developed a variety of offline use cases, including restaurants, supermarkets, convenience stores, taxis, hospitals and public services. The technology integration facilitated by this partnership with Samsung Electronics will make the payment process faster and more convenient when users make payments at stores where Alipay is accepted."
SOURCE: Samsung