Samsung, AMD team up to bring FreeSync to UHD monitors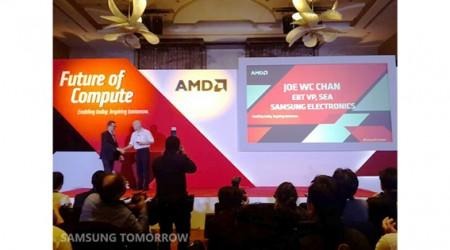 In an almost surprising partnership, Samsung and AMD have announced that the two will be working together to bring the chip maker's FreeSync technology to the display manufacturer's upcoming line of Ultra HD capable monitors next year. The marriage of the two technologies will be targeting gamers and creative professionals who require not only accurate colors and high resolutions but also fluid frame rates. Though the combination sounds almost natural, the people involved and the timing could make one wonder if there are other factors involved.
FreeSync is AMD's solution to the age old problem of screen tearing, when a particular frame appears broken or torn because the rate at which computers draw content more often than not gets out of sync with how fast the monitor can display them, sometimes with content coming in a lot faster than the monitor can handle. As a graphics card manufacturer, of course AMD will be interested in solving this puzzle, especially for its gaming customers. Eschewing the more common v-sync answer, AMD, naturally, suggests leaving it to the graphics card to control the monitor's refresh rate, provided that monitor is compatible with the new DisplayPort Adaptive Sync feature it is pushing for.
Of course, AMD is hardly the only game in town. NVIDIA has been pushing for its own synchronization solution called G-Sync. Aside from its own GeForce card, G-Sync requires a specific module to be attached to a monitor for the magic to work. Since its initial announcement last year, a few monitor makers such as AOC, Acer, and Philips have incorporated the technology in one or two of their own products. Why not Samsung, you might ask. Samsung and NVIDIA are now locked in a legal battle over several patents, mostly over mobile device graphics. This has pretty much soured things between the two, giving this latest partnership with AMD a bit more color.
Controversy and gossip aside, Samsung and AMD are set to launch not one, not two, but five FreeSync-empowered UHD monitors next year. These are the 23.6-inch and 28-inch UD590 and the 23.6-inch, 27-inch, and 31.5-inch UE850. Samsung envisions that FreeSync will make its way to its entire UHD line. These monitors will be available starting March next year. No price tags have been mentioned.
SOURCE: Samsung