Samsung 950 Pro SSD uses PCIe Gen.3 x4 slot for 2500 MB/s read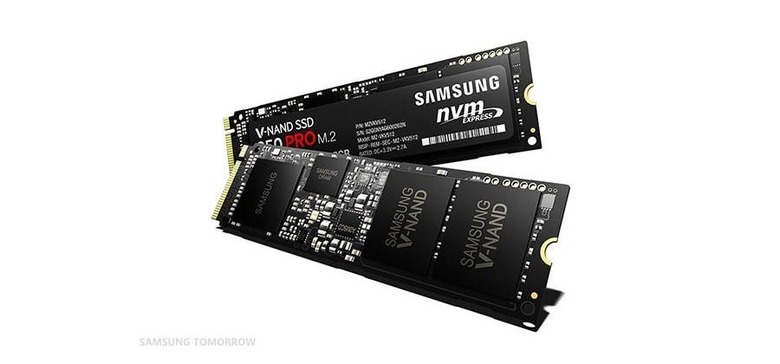 Samsung has trotted out its latest storage solution called the 950 Pro SSD and this storage solution promises very impressive read and write performance. The storage device is aimed directly at use in consumer and business laptop computers and uses a M.2 2280 form factor. That form factor is aimed at ultra slim notebooks and workstations looking more like RAM than a storage drive.
The 950 Pro SSD is the first consumer grade Non-Volatile Memory Express (NVMe) M.2 form factor with vertical NAND tech. Samsung designed the SSD to use the PCIe 3.0 interface to give more bandwidth for read and write operations.
While higher performance is a big priority with this SSD, Samsung also designed the drive to be power efficient to help extend battery life and reduce operating costs. The high speed interface allows the 512GB SSD to offer users read speeds of up to 2500 MB/s and write speeds of up to 1500 MB/s. Random read performance is up to 300,000 IOPS with write speeds up to 110,000 IOPS.
Samsung will offer the 950 Pro in 512GB and 256 GB capacities; it's unclear if the 256GB version has the same performance capability. Other features include AES 256-bit full disk encryption and dynamic thermal guard to protect data during inclement weather. The drive will ship in October with the 256GB selling for $199.99 and the 512GB for $349.99.