Samsung 9 Series Notebook Announced at CES 2011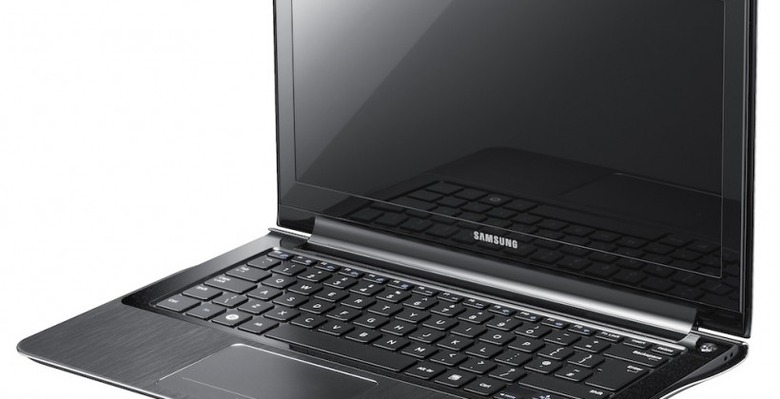 Samsung unveiled a brand new, super-thin notebook at this year's Consumer Electronics Show. Calling the 9 Series, the new device is being marketed as a durable, "ultra premium" and lightweight device. It's a remarkably thin device, that Samsung says is actually thinner than Apple's MacBook Air. Featuring a 13.3-inch display, the 9 Series is certainly one of the most attractive notebooks out there.
Samsung claims that the new 9 Series weighs less than 3 pounds, and it measures in at only 0.64-inches. It's also constructed from Duralumin. The 13.3-inch display is LED-backlit, with a contrast ratio of 100,000:1 and a resolution of 1366 x 768. Inside, you'll find an Intel Core i5 processor, second-generation, clocked at 1.40GHz. Microsoft's Windows 7 Home Premium 64-bit is installed.
There's 4GB of DDR3 memory, and integrated 802.11b/g/n WiFi. For the graphics, Intel's HD GT2 Integrated Graphics will be used. It will launch in February, 2011, and cost around $1,599
Press Release
2011 International CES

LAS VEGAS–(BUSINESS WIRE)–Samsung Electronics America Inc., a subsidiary of Samsung Electronics Corporation, today announced the 9 Series, a durable, ultra premium, lightweight laptop computer at the International Consumer Electronics Show in Las Vegas. The 13.3-inch 9 Series offers mobile professionals and power users a sophisticated laptop equally suited for work and entertainment. Thanks to a stunning design, Samsung's hallmark SuperBright Plus display and Intel performance processing power, the notebook ushers in a new era in mobile computing. The 9 Series will be available on display at Central Hall booth #12006, January 6-9, 2011.

"Weighing less than 3 lbs., Samsung has designed the 9 Series to stand out, completely reimagining the notion of the traditional laptop"

"Weighing less than 3 lbs., Samsung has designed the 9 Series to stand out, completely reimagining the notion of the traditional laptop," said Scott Ledterman, director of mobile PC marketing at Samsung Enterprise Business Division. "When designing a premium laptop like the 9 Series, Samsung wanted to offer an unforgettable experience without limitations. The 9 Series laptop successfully combines elegant styling, performance and ease of use in an ultra thin and lightweight package."

Unparalleled Styling

The 9 Series is made from material known as Duralumin, typically found in advanced aircrafts and offers construction quality twice as durable as aluminum, all while keeping the laptop weight under 3 lbs. To develop the 9 Series with the use of this new material, Samsung created an exhaustive testing process to ensure that the notebook is not only extremely sturdy, but also constructed with the perfect look and feel for technology savvy users.

The 9 Series' naturally flowing design takes cues from the sleek styling and sophisticated beauty of a premium sports car. The silhouette evokes thoughts of speed and performance with an ultra-thin 0.64 inch profile. Additionally, the naturally flowing arch maximizes the laptop's ergonomic appeal, making it easier to use and a natural fit for the human grip.

Ultra Vivid Display

The 13.3-inch 9 Series features a LED-backlit screen, offering users the highest quality visual experience expected from Samsung, thanks to SuperBright Plus display with 400- nit brightness. Digital images and multimedia are brought to life on the 9 Series, assisted by a 100,000:1 contrast ratio and true-to-life color reproduction (16 million colors), enriching the computing experience for end users.

Additionally, the wide 160-degree viewing angle allows users to appreciate breathtaking screen images from a variety of vantages points, making the 9 Series easy to use whether in a user's lap, on a desk or shared in a communal space. The laptop's ambient light sensor adjusts the display brightness based on surrounding lighting conditions and reduces user eye strain. This innovative feature is complemented by an automatically adjusting backlit keyboard that adapts to darker light conditions with greater illumination.

Innovation Inside

The 9 Series integrates the second generation Intel® CoreTM i5 processor, affording users the latest in performance computer technology. Intel HD graphics, combined with the new processor, deliver crystal-clear visuals, vibrant colors and smooth high-definition (HD) video and audio playback.

Ensuring users are ready anytime anywhere, the 9 Series makes use of Samsung's new power-efficient lithium polymer batteries, and achieves up to 6.5 hours of battery life on average. Lithium polymer batteries extend the life of the product with double the lifespan for up to three years or 1,000 charging cycles. Additionally, various charging settings, like a "Battery Life Extender Mode" and "Express Charging Mode" empower users with options to get the most from their experience.

Signature Samsung Technology

Samsung's Support Center ensures all content stays safe and can help troubleshoot any particular problem. Accessible with a keyboard shortcut, the Support Center helps users manage their system settings or arrange for a tech-support web chat. Samsung's Back-up & Recovery Solution also allows users to create and restore back-ups of system data on the device, or on a network or removable storage device.

Lastly, focusing on convenience and connectivity, the new 9 Series boasts USB 3.0, Bluetooth 3.0, built-in WiMax1 and utilizes the latest in Wi-Fi and USB Sleep & Charge technologies.

The Samsung 9 Series is scheduled to be available in February 2011, starting at $1,599. All Samsung mobile PC products are available through Samsung resellers and distribution channels, which can be located by calling 1-800-SAMSUNG or by visiting www.samsung.com.

Key Specs:

CPU: Second Generation Intel® CoreTM i5 Processor 2537M (1.40 GHz, 3MB; turbo up to 2.3 GHz)

Operating System: Genuine Windows® 7 Home Premium (64 bit) / Windows® 7 Professional (64 bit)

Memory: 4GB DDR3

Storage (max): 128GB Solid State Drive (SSD)

Screen: 13.3-inch HD LED-backlit SuperBright Plus display (400 nit)

Resolution: 1366×768

Graphics: Intel HD GT2 Integrated Graphics

Speakers: 3 watt (1.5W x 2) stereo speakers and 1.5 watt sub-woofer

Battery: Lithium Polymer; up to 6.5 hours

Wireless: 802.11b/g/n; WiMaxi

Weight: 2.89 lbs.

About Samsung Electronics America Enterprise Business Division

Based in Ridgefield Park, N.J., Samsung's Enterprise Business Division (EBD) is a division of Samsung Electronics America (SEA), a U.S. subsidiary of Samsung Electronics Company, Ltd. (SEC), the world's largest technology company based on revenue. As one of the fastest growing IT companies in the world, Samsung EBD is committed to serving the needs of consumers ranging from the home user to the Fortune 500 elite and supporting the valued channel partners who serve our customers. Samsung EBD offers a complete line of award-winning color and mono-laser printing solutions, desktop monitors, laptop computers, digital signage solutions and projectors. For more information, please visit www.samsung.com or call 1-800-SAMSUNG.

About Samsung Electronics America, Inc.

Headquartered in Ridgefield Park, NJ, Samsung Electronics America, Inc. (SEA), a wholly owned subsidiary of Samsung Electronics Co., Ltd., markets a broad range of award-winning, digital consumer electronics and home appliance products, including HDTVs, home theater systems, MP3 players, digital imaging products, refrigerators and washing machines. A recognized innovation leader in consumer electronics design and technology, Samsung is the HDTV market leader in the U.S. Please visit www.samsung.com for more information.

About Samsung Electronics Co., Ltd