Samsung 860 PRO and EVO SSDs aim to supercharge your 4K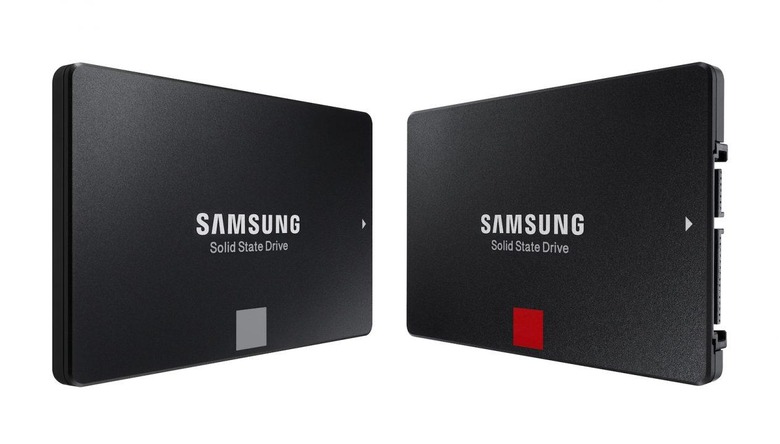 Samsung has a new pair of performance SSDs, and if you're prone to fast drive envy you should probably look away now. The Samsung 860 PRO and 860 EVO and the latest in the memory maker's SATA interface solid-state drives, and the successors to the 850 PRO and 850 EVO that proved to be so popular among enthusiasts back in 2015.
As you'd expect, with a few years in-between the drives have come on in leaps and bounds. Now, the 860 PRO and 860 EVO use 512 Gb and 256 Gb 64-later V-NAND, combined with up to 4 GB of LPDDR4 mobile DRAM. Samsung has also used a new MJX controller.
The result is an impressive turn of speed. The drives will manage up to 560 MB/s read rates and 530 MB/s write rates, for example. They're being billed as ideal for 4K video storage and editing, where the speed UHD video files can be pulled to and from your drive can make all the difference.
As for the difference between the drives themselves, that comes down to capacity, form-factor, and warranty. The Samsung 860 PRO is being offered in 256GB, 512GB, 1TB, 2TB, and 4TB sizes: that means up to almost 115 hours of 4K footage, the company points out. It uses the regular 2.5-inch form factor, too, making upgrading your existing desktop, notebook, or NAS fairly straightforward if you're handy with a screwdriver.
The Samsung 860 EVO, meanwhile, comes in 250GB, 500GB, 1TB, 2TB, and 4TB capacities. It'll offer not only 2.5-inch form factors, but mSATA and M.2 as well. You do get a slightly different warranty, mind: up to 4,800 terabytes written (TBW) for the 860 PRO, while the 860 EVO makes do with 2,400 TBW (or five years, whichever comes first).
As for power requirements, the 860 PRO uses 2.5 mW for the 1 TB drive during device sleep, or up to 7 mW for the largest, 4 TB model. The 860 EVO is a little more thirsty, however. It uses 2.6 mW for the 1 TB, or up to 8 mW for the 4 TB.
According to Samsung, the 860 PRO kicks off at $139.99 for the 256 GB model, while the 860 EVO starts at $94.99 for the 250 GB model. Both will be available from this month.