Samsung 60-inch Smart TV hands-on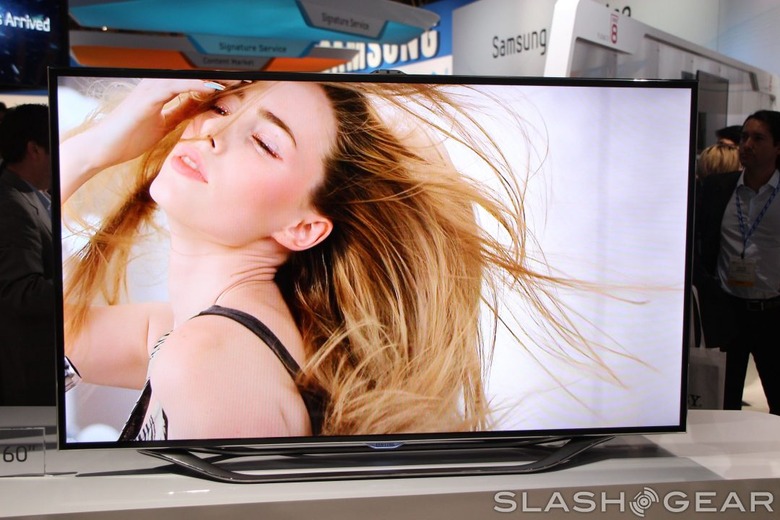 Just about every major TV manufacturer at CES is showing off web-connected televisions, and as one of the original makers of "Smart TVs", Samsung is no exception. They've revealed new models and designs for 2012, with the most notable additions being a built-in webcam and a new double arch base design. We took an in-depth look at the 60-inch version on the CES show floor.
The most visually interesting part of the display (besides, you know, the display) is the arched base. It's a unique implementation that manages to be just as pretty as the silvery TV it supports. The bezel above the screen has to be extended to about twice its slim width to accommodate a webcam and microphone, which is used for both video chatting and gesture/voice controls. Samsung's typically excellent LED display was as sharp and vivid as expected, though obviously it doesn't hold a candle to the bleeding-edge OLED TVs.
The most important thing that Samsung announced in its new line of Smart TVs was that they could be augmented with an upgrade module, which the company plans to bring out once a year to update the software and features. This system on a chip plugs into a specialized port on the back of the television. 2012 sets will get the capability for the hardware upgrade, with 2013 being the first year that upgrade modules will be sold alongside the newer Smart TV models. Samsung calls this TV "futureproof" – we'll see.
Unfortunately the floor display didn't go into Samsung's new Smart TV interface or applications, so we couldn't test out the gesture control. Samsung plans to make its Smart TV line available in a range of sizes in 2012. Pricing and precise availability details are not available.