Samsung 4.8-inch ATIV S Windows Phone 8 smartphone leaks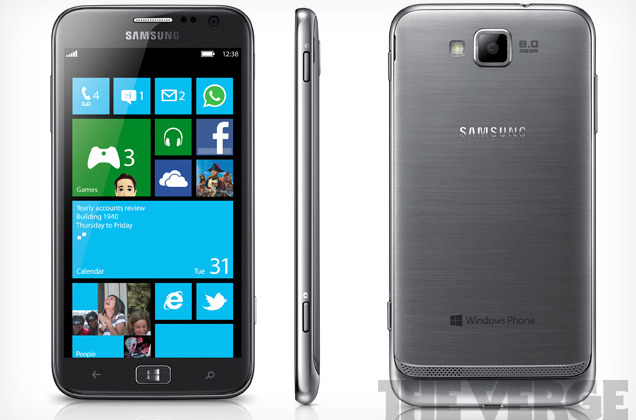 Those rumors about Samsung naming their new Windows Phone lineup the "ATIV" appear to be quite accurate after today's latest leak. It looks as if Samsung is getting prepared to launch a few new Windows devices and today we have our first look at the 4.8-inch ATIV S Windows Phone 8 smartphone. It isn't quite the Galaxy S III — but sure comes close.
Samsung plans to be one of if not the first to announce a Windows Phone 8 smartphone, and that is stacking up to be the above pictured ATIV S. This phone will indeed be their flagship WP8 device if rumors are true, and it packs just as much punch as its Android counterpart.
The Samsung ATIV S will be sporting a 4.8-inch HD Super AMOLED display with an unknown resolution but most likely 1280 x 720p. Under the hood will be a 1.5 GHz dual-core processor (probably Qualcomm's S4) along with an 8 megapixel rear camera and 1.9 MP front shooter as well. Other specs have not been detailed or leaked at this time.
The pictures, leaked by The Verge, shows some similarities to the Galaxy S III with a few subtle changes like the speaker being placed down below instead of near the camera. Otherwise they appear to be extremely similar in design, size, and thickness. We are hearing Samsung could possibly unveil this new flagship Windows Phone 8 device at IFA 2012 during their Samsung Unpacked event. That will be starting under the hour so stay tuned for full details as we are here live! Follow along at our IFA Hub for all the news.