Samsung 256 GB SATA SSD boasts 100+ V-NAND layers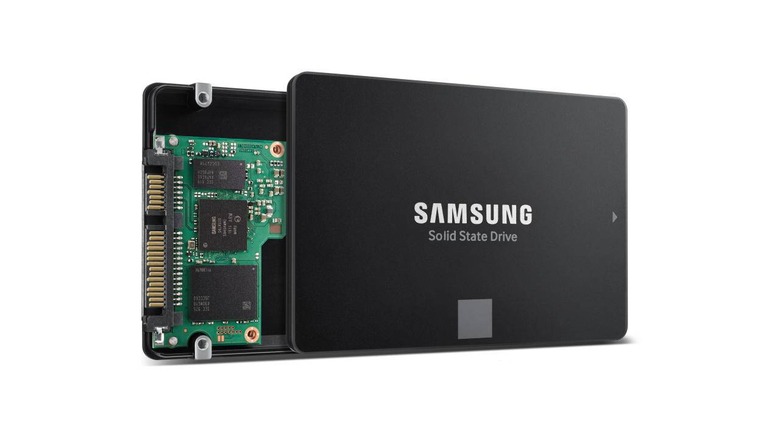 Throughout all of Samsung's troubles in terms of smartphone revenues, its silicon and data storage businesses have always brought in the dough. There is news that those are now also in peril, which is why it is now boasting of its sixth gen V-NAND data storage that crams more than a hundred layers in a single stack of 3D memory.
It's really mostly technical marketing jargon that all boils down to one thing: more memory in a smaller space. That is especially important when talking about SSD storage that's often used in space-constrained devices. The more data storage you can offer in the same amount of space, the more enticing your product becomes.
Unsurprisingly, Samsung boasts of its manufacturing prowess that makes it possible. That includes a "unique channel hole etching" that it uses for 3D memory production. Samsung has been flaunting its 3D V-NAND tech that stacks several layers of silicon to get around the problem of space by extending the are vertically rather than horizontally.
This, Samsung says, allowed it to increase capacity by 40% compared to the 9-layer fifth gen memory it launched just May 2018. In terms of speeds, Samsung is promising a 10 percent increase at 15 percent decrease in power consumption.
The 256 GB SATA SSDs are entering into mass production and are made by utilizing 256 Gb (Gigabit) 3-bit V-NAND memory. It's just the beginning, though, Samsung promises. Building on this sixth-gen memory, Samsung plans to introduce a 512 Gb three-bit V-NAND tech to produce SSDs and eUFS data storage later this year. The latter will be especially important for Samsung's future mobile devices.
Samsung's semiconductor business has been one of its more stable businesses compared to the stagnating TV market and the fluctuating smartphone market. However, due to the trade row between South Korea and Japan, Samsung's access to important materials and chemicals has been impacted. In a way, this announcement, which Samsung boasts comes four months early, is meant to assure the market that all is well and is even doing better than well.