Samsung 2010 HDTV, Blu-ray and 3D home theater systems unveiled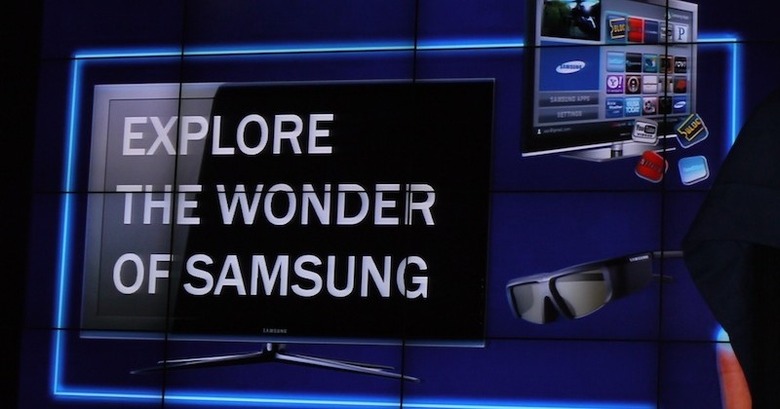 We're at Samsung's home entertainment event in NYC this morning, and the company has taken the wraps off of their latest LCD and plasma HDTVs, Blu-ray players – including the world's first portable model with 3D support – and a trio of surround-sound home theater systems.  3D is definitely Samsung's watchword today, with the new 65-inch UN65C8000 ultra-slim LED HDTV ($5,999.99), 50- and 58-inch PN58C680 ($2,299.99) and PN50C680 ($1,599.99) plasma HDTVs and 50-inch PN50C490 ($1,099.99) plasma all 3D-capable and supporting 1080p HD.
Meanwhile the Samsung BD-C7900 and BD-C6800 Blu-ray players each have 1GB of internal storage, integrated WiFi, Samsung AllShare support and Samsung Apps support.  They'll be $399.99 and $279.99 respectively.  The BD-C5900 has 3D, AllShare, WiFi and Apps, with an entry level price of $229.99.  Finally, their portable counterpart, the Samsung BD-C8000, is a 10.3-inch portable Blu-ray player with WiFi, AllShare and Samsung Apps, and will be priced at $499.99.
In surround sound, meanwhile, the Samsung HT-C9550W, HT-C6900W and HT-C6600 all support 3D; the C9550W has 7.1 surround while the other two make do with 5.1.  Both the C9550W and C6900W have wireless rear speakers and WiFi; all three support AllShare and Samsung Apps.  They'll be $1,799.99, $699.99 and $599.99 respectively.
Press Release:
SAMSUNG UNVEILS WORLD'S FIRST PORTABLE BLU-RAY PLAYER WITH 3D CAPABILITY; FURTHER EXPANDS 3D PRODUCT LINE-UP

New Blu-Ray Players and Home Theater Systems Offer Immersive 3D Experience At Home

RIDGEFIELD PARK, NJ, August 11, 2010 – Samsung Electronics America, Inc., a market leader and award-winning innovator in consumer electronics, today announced the U.S. availability of the world's first portable Blu-ray player with 3D capability. The Samsung BD-C8000 delivers true 1080p HD video, enables 3D playback when connected to a 3D-capable TV and used with 3D glasses, and features a brilliant 10.3-inch screen. It includes built-in Wi-Fi for easy access to advanced connectivity features, including an expanding library of content and applications via Samsung Apps and HDMI 1.4a support. With three hours of battery life, the Samsung BD-C8000 is the perfect travel companion for anyone who wants an outstanding entertainment experience while on the go.

Samsung also introduced three additional standalone Blu-ray players and three new Blu-ray Home Theater Systems that deliver crystal-clear picture and sound quality with new features that will excite both the first-time owner and the audiophile.

"Blu-ray has raised the bar for video and audio quality that consumers expect to see at home. We led the way in 3D TVs and are excited to do the same for 3D Blu-ray players and Home Theater Systems. With the industry's broadest line-up of 3D capable home entertainment products, there is a product to suit every home and wallet," said John Revie, senior vice president of Home Entertainment at Samsung Electronics America Inc.

Expanded Range of 3D-Capable Blu-ray Players Helps Future-Proof Entertainment Options

Samsung's latest Blu-ray players bring the wonder of 3D entertainment into the home. The Samsung BD-C7900 Blu-ray player is designed for the HD guru. With two HDMI outputs, the BD-C7900 makes it easy to connect multiple HD sources to experience a full 1080p picture and digital surround sound. The two HDMI outputs also allow for support of legacy receivers so there is no need to upgrade to a new HDMI 1.4 receiver; the user can simply connect their receiver to the HDMI 1.3 output for rich, lifelike surround sound audio. This sleek and stylish device offers built-in WiFi for seamless connectivity to Samsung Apps. It also features Samsung's proprietary AllShare™, which allows people to wirelessly sync digital devices so that they can enjoy music, movies and photos directly from their DLNA certified PC, camera and mobile devices to their Samsung TV screen.

For those looking for a versatile home entertainment experience, Samsung's BD-C6800 Blu-ray player includes built-in WiFi enabling it to wirelessly receive web-based content via Samsung Apps and playback media files from DLNA certified devices via Samsung's AllShare™. The entry-level BD-C5900 is designed for those looking for a high-performing yet affordable 3D Blu-ray player.

All Samsung Blu-ray players support a wide range of media formats and access to an expanding library of applications through Samsung Apps, the first HDTV-based applications store. These new 3D Blu-ray players deliver a premium experience with both 2D and 3D content and allow consumers to future-proof their living rooms for when they are ready to purchase a 3D HDTV.

Series/Model Estimated Selling Price Estimated Availability

BD-C8000 $499.99 July 2010

BD-C7900 $399.99 July 2010

BD-C6800 $279.99 July 2010

BD-C5900 $229.99 July 2010

Powerful New Blu-ray Home Theater Systems Deliver Immersive 3D Experience

The Samsung HT-C9950W is the ultimate combination of beauty, design and performance. It features a modern metallic finish and is the perfect complement to Samsung's award-winning 9000 series LED TV. It delivers jaw-dropping home theater picture quality, and engaging, life-like and immersive entertainment experience that will please anyone looking for the best in home cinema. The HT-C9950W is as feature-rich as it is stylish – with slot-in disc loading, organic touch control buttons and a premium volume wheel. The 7.1 channel 3D surround sound system consists of four floor-standing speakers, two satellite speakers, one center channel unit, an anti-vibration subwoofer, iPod/iPhone dock, two HDMI inputs, and it comes with a dongle for wireless Internet connectivity so that you can easily access new content everyday via Samsung Apps, or use Samsung's AllShare™ to watch content from your DLNA certified devices on the TV.

With the introduction of the HT-C6900W and HT-C6600, Samsung brings together the unsurpassed picture quality of 3D Blu-ray players with vibrant surround-sound audio, all in the perfect home theater package for small spaces.

The Samsung HT-C6600 offers an impressive slate of features – a Blu-ray player with built-in 3D, support for HDMI 1.4, access to Samsung Apps and WiFi dongle for wireless connectivity. In addition, the HT-C6600's patented, high-performance Crystal Amp Pro technology dramatically enhances sound quality through its multi-variable feedback technology to deliver a complete immersive audio experience. The Samsung HT-C6900W offers all the features of the HT-C6600, plus wireless rear speakers, built-in WiFi, and a two-way center channel speaker for enhanced sound quality.
Press Release:
SAMSUNG ANNOUNCES "FREE THE TV CHALLENGE" APPS CONTEST;

DOUBLES APPS LIBRARY CONTENT

Reinforces market leadership in smart TV segment with new content and experiences

RIDGEFIELD PARK, NJ, August 11, 2010 – Samsung Electronics America, Inc., a market leader and award-winning innovator in consumer electronics, today kicks off its Free the TV Challenge to find the most innovative applications for IPTVs, Blu-ray players and Blu-ray Home Theater Systems. With a total prize value of half a million dollars, the Challenge is open to all developers in the US starting today.

Samsung also announced that the number of applications available through Samsung Apps, the world's first HDTV-based application store, has more than doubled since its launch five months ago. Beginning today, people can choose from a wide range of unique and premium apps across five categories – video, gaming, social media, sports and kids – including apps from ESPN and Hulu which are currently exclusive to Samsung. They can also download and enjoy the world's first 3D video on-demand app to view trailers of 3D movies.

"We are thrilled that content owners continue to embrace Samsung Apps and that we have doubled the number of applications available to owners of Samsung 2010 connected TVs and Blu-ray devices," said Eric Anderson, vice president of content and product solutions, Samsung Electronics America, Inc. "The Free the TV Challenge will continue that momentum by opening up these TVs to even more developers across the US who want to distribute their content on the biggest screen in the home. People want a connected entertainment experience with their devices and we encourage developers to free the TV by bringing new concepts, as well as existing apps from many platforms, to the TV."

Samsung Free the TV Challenge Opens Today

With the Free the TV Challenge, Samsung is unlocking a new era in smart TV by helping free the TV for developers, who can now tap into the expanding market for TV applications. Developers can go to www.FreeTheTVChallenge.com to register for the contest, starting today. To be eligible, developers must live in the United States, submit the final app and provide a video that showcases how the app works to Samsung by November 11, 2010. The contest will be administered by New York-based startup ChallengePost, and entries will be judged based on the quality of the idea, functional implementation, and visual appeal. Total prize value is US$500,000. Roelof Botha from Sequoia, Mike Maples from Floodgate, Bob Borchers from Opus Capital and Jeremy Levine from Bessemer will serve as judges. Consumers will also have an opportunity to cast their vote online for the "People's Choice Award." Samsung will announce the overall winner at the International Consumer Electronics Show in Las Vegas, NV.

In addition, select applications submitted to the Free the TV Challenge will be made available to the large and growing community of Samsung Apps users. Samsung Apps is accessible on all 2010 Samsung Blu-ray players, Blu-ray Home Theater Systems and the majority of HDTVs with screen sizes 40" or larger.

Built with the developer in mind, Samsung Apps supports common web standards, like Javascript, XML and support for Adobe Flash Lite 3.1, and uses a single SDK for apps that runs across HDTVs, Blu-ray players and Blu-ray Home Theater systems. This eliminates many of the barriers to development by allowing applications to be written once and deployed across several platforms, ultimately enabling more versatile monetization for developers and a consistent, intuitive experience for consumers.

To further support developers, Samsung is launching a series of Free the TV Developer Days, where developers will get hands-on demonstrations of the Samsung Apps platform and a tutorial on the Samsung SDK, as well as participate in a Q&A session with Samsung engineers. The first session will be held on August 31, 2010 at the Fairmont Hotel in San Jose, CA, and Pandora Founder Tim Westergren will speak at the event.

More information on Samsung's Developer Days and registration for the Free the TV Challenge is available at www.FreeTheTVChallenge.com.

New Apps Demonstrate Diversity of Content and Services

Samsung continues to see explosive growth in smart TV and has more than doubled the number of available applications in its library within five months. In addition to various free apps, Samsung today expanded its library of apps with the addition of ESPN's Next Level application, as well as a variety of other premium apps that offer a variety of 3D, sports, casual gaming, weather and family-oriented content at the touch of a button.

The new ESPN Next Level app, available as a free download exclusively through Samsung Apps, is expected to be a hit with sports fans. With four main sections, the app will allow fans to access in-depth looks at sports events and players in the news; predictive picks of the day's games across all major sports; research nuggets from the ESPN Research team; and insights from Peter Keating, Senior Writer at ESPN The Magazine, who gives his unique perspective on a variety of statistical subjects. Samsung and ESPN plan to introduce a ScoreCenter app in the Fall of 2010, based on the popular app currently available on mobile devices.

Samsung will soon launch the world's first 3D Video On-Demand app which offers viewers sneak previews of upcoming 3D movies. All apps are available from today and can be downloaded directly on the TV via their Internet-connected HDTV, Blu-ray player or Blu-ray Home Theater System*.

Samsung, the market leader in smart TV, is committed to expanding the types of experiences available to consumers. In 2008, the company was the first to deliver text-based RSS feeds, bringing news, weather and stock information directly to the TV with its InfoLink feature. In 2009, Samsung added Yahoo! widgets to the smart TV experience, as well as streaming video services with providers like Blockbuster and Amazon video-on-demand. With the launch of Samsung Apps this year, Samsung is broadening the smart TV experience, bringing services such as text-based information, casual games, sports, communications, social and location services, and HD and 3D video to consumers. The addition of these new premium apps underscores momentum around the platform as leading content providers continue to recognize the platform's flexibility in delivering the growing types of content that meet consumers' demand. Today, more than 60 industry-leading partners have made personalized, easy to use smart TV experiences available to consumers through Samsung Apps, including exclusive HDTV-based apps content from ESPN and Hulu Plus, among other leading brands like Blockbuster, Facebook, Google, Netflix, Pandora, Twitter, USA TODAY and Vudu.