Samsung 12GB LPDDR4X RAM for phones begin mass production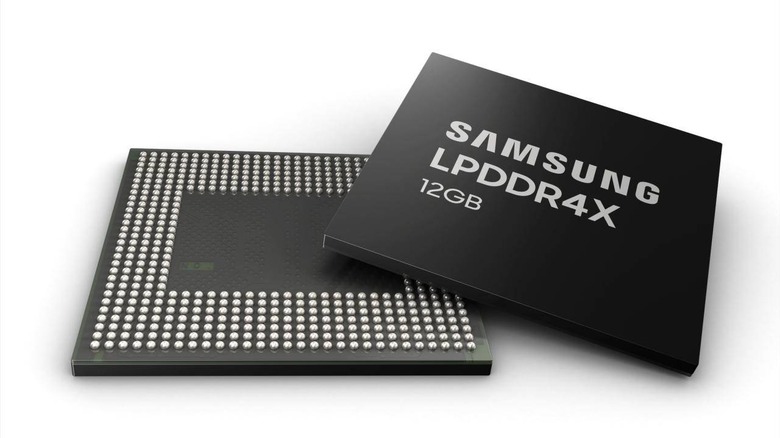 Our smartphones are getting insanely powerful to the point that they're starting to rival mid-range and ultra-thin laptops in terms of specs, performance, and especially battery efficiency. There are, of course, areas where laptops still trump phones in raw performance and software, things seem to be headed in that direction as well. The latest piece to drop comes from Samsung who is boasting the launch of 12 GB LPDDR4X RAM that might be a bit too late for the Galaxy S10+ but not for its 5G version.
To be clear, this isn't Samsung's first 12 GB RAM chip for smartphones. It already has that in the limited Ceramic edition of the Galaxy S10+ after all. That, however, used an LPDDR4 silicon that's a generation behind this new LPDDR4X. What's the difference then? It's all in the size.
Samsung's new mobile DRAM was made by combining six 16 Gigabit (Gb) LPDDR4X chips made using a 10 nm process. In contrast, Samsung's LPDDR4 memory use a 20nm-class process. While they do share the same average 4,266 MB/s speed, the LPDDR4X memory takes up less space, allowing smartphone makers to cram more or bigger components inside the phone. Like, for example, a bigger battery.
Considering it's only starting mass production now, this 12 GB RAM is unlikely to be used in the Galaxy S10+. Just as the new eUFS 3.0 storage was too late for the Galaxy S10 series as well. That said, Samsung's message seems to revolve around phones with more than five cameras and 5G compatibility.
That pretty much describes the Galaxy S10 5G, which will have six cameras (2 front, 4 back) in addition to a 5G modem. Presuming it will also get the new eUFS 3.0 internal memory along with this 12 GB RAM, the Galaxy S10 5G could very well end up being one of the more expensive non-foldable phones this year.