Samsonite Checkmate Laptop Bag Makes Flying Easier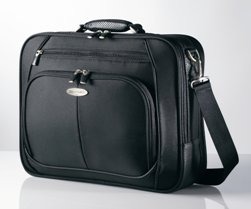 One problem many people have when flying is getting their laptops through the security checkpoints. But with the Checkmate Laptop Bag by Samsonite, getting through those checkpoints should be a breeze.
Measuring in at 16.5 x 13.0 x 4.7 inches, you can store up to a 15.4-inch laptop and you don't even have to remove it during security checks. All you have to do is unzip the bag, unfold it and lay it flat, then send it through the x-ray machine.
Once out on the other side, you just have to zip it back up and you can be on your way. Sounds simple and easy enough for me. Plus, the price is reasonable for a Samsonite. The Checkmate Laptop Bag will cost $79.99 and should launch sometime in November of this year.
[via Gearlog]