Sam's Club Selling iPhone 4 for $147 Until Christmas Day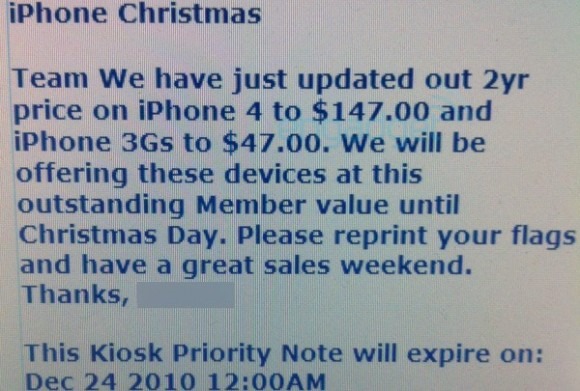 It seems that Sam's Club is ready to sell the iPhone 4 at a cheaper price, as long as you're ready to sign over a new, two-year contract. Thanks to a leaked document, it's been outed that the wholesale retailer is planning on dropping the price of the latest generation iPhone for a few days, for those lucky enough to call themselves members. The new price, which is only available for the iPhone 4 that's locked to AT&T, will only be around until Christmas Day.
The internal screenshot was sent over to Engadget. As you can see from the image above, Sam's Club higher-ups have informed those able to sell the iPhone 4 that, until Christmas Day, they will be selling the handset for a measly $147. The new price reflects a two-year contract that you'll have to sign with AT&T, of course. And, as a little bonus, the wholesale retailer is also discounting the iPhone 3GS, and will be selling it for only $47, until Christmas Day.
[via Engadget]