Ryobi garage door opener uses plug-and-play modules to do more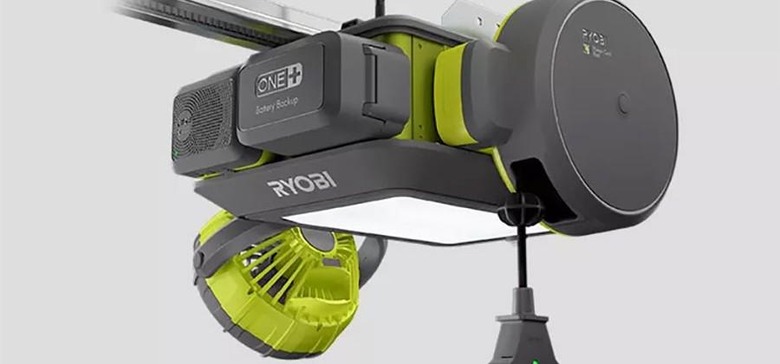 Typically, a garage door opener does one thing; it opens the garage door for you. Ryobi has a new garage door opener that opens the door and ads functionality to your garage via plug and play modules that can be added and removed as needed. The garage door opener can be fitted with modules that add things like carbon monoxide sensors, wireless speakers, fans, or parking assistants.
The official name for the Ryobi opener is the Ultra Quiet Garage Door opener and it claims to be 20% quieter than other garage door openers. The parking assistant uses a pair of class 6 lasers to mark the point when you need to stop pulling into the garage. This is perfect for those prone to hit walls or not pull into the garage far enough for the door to shut.
Other modules allow users to add a Bluetooth speaker, a fan to keep you cool while you work in the garage, or a retractable power cord. With power outlets at a premium in a garage that doubles as a workshop, the power cord is likely going to be the most popular module. The opener is backed with a lithium-ion battery that can open the door up to 100 times if you have a power outage.
Users can also connect the opener to their WiFi network and use an app available for the iPhone or Android devices that will show if the door is opened or closed. The app can also warn of carbon monoxide levels if that module is in use. It has a 2hp motors and steel reinforced belt drive along with a motion activated LED light. The opener retails for $248 and the price includes a wall controller, wireless keypad, two remotes and a sensor to keep the door for closing n things. The accessories start at $44.
SOURCE: Gizmag