Rymble merges real world with social networking online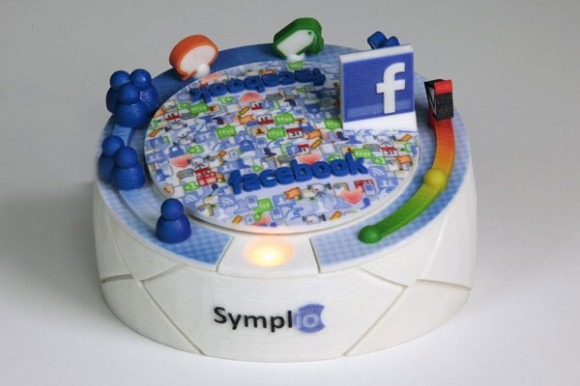 No, that isn't the spinner from the board game Life you see in the image below. It a contraption called Rymble by Symplio that is intended to merge virtual social networks with the real world. It is a sort of real world notification system. It will allow you to see what is going on when you are not on the site for Facebook or other networks. The maker describes it as a "living internet object" that mirrors what happens on the social network for likes messages, and requests using movement of the Facebook wheel and sounds.
I think the thing might get annoying; some of the people on my Facebook page are constantly liking and posting everything from "I'm bored" to "I just ate Mexican food." I had one of these it would be spinning constantly. The device can be linked to a favorite topic, artists, team, band, or any other subject and it will move to show you when that topic is being talked about.
The skins that sit on top of the base that has all the guts of the system are completely customizable to allow you to track whatever you want. You will be able to have your own skins created for anything you want to follow and artsy types can make money from every skin they design. The device isn't available just yet and there is no indication of when it will launch or how much they will cost. Check out the video below for more detail.