Rydeen gPad GCOM701 7-inch Android slate due November
Another day, another Android tablet.  Today's is the Rydeen gPad GCOM701, a 7-inch slate based around Marvell's 800MHz ARMADA 166 chipset and promising between 6 and 8 hours of battery life.  Connectivity includes WiFi b/g, Bluetooth, a microSD card slot and USB, while there's also GPS with Navteq software for using the gPad as a PND.
Unfortunately, it's not all good.  The 7-inch display runs at WVGA 800 x 480 resolution, and uses a resistive touchscreen layer rather than the capacitive we're now used to.  There's also no mention in the official specs as to which version of Android the gPad runs, though given Rydeen talk about Adobe Flash Lite 4 support we're guessing it doesn't have Froyo.
Up front there's a 2-megapixel webcam for video chat, and you get 2GB of internal memory together with a full-sized USB host port for plugging in peripherals like memory sticks.  Everything will hinge on pricing, but that's another thing Rydeen aren't revealing; guess we'll have to wait until the gPad hits the US market in November 2010 to find out.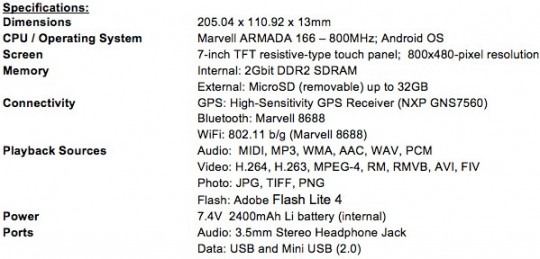 Press Release:
Rydeen Introduces the "gPad" GCOM701
Android-based Device Features 7-inch Touch Screen, 2MP Front-facing Camera

Torrance, Calif., August 31, 2010 – Rydeen Mobile Electronics today introduced the GCOM701, a "slate" form factor device utilizing the Android® operating system. Powered by the Marvell® ARMADA™ 166 application processor, the GCOM701 delivers seamless connectivity; live, real-time content; rich and immersive media experiences — all with very long battery life. The new device exceeds innovation and availability standards in the Android based MID (Mobile Internet Device) market today. The new device features a front-facing camera, removable memory and direct-access hardware buttons. The GCOM701 is expected to ship in November 2010 and will be available in two colors, black and white.

The GCOM701 comes to market at a time when large-screen tablets with virtual keyboards are the talk of consumer electronics blogs and coverage. With a 7-inch TFT touch panel and 800x480-pixel resolution, the GCOM701 offers ample screen space for Web surfing, reading eBooks and viewing images, video and e-mail, in portrait or landscape mode. Its slim form factor makes it easy to carry in an oversized pocket or bag.

When it comes to features and connectivity, the GCOM701 delivers. WiFi connectivity (802.11 b/g) and GPS are built in. Bluetooth capability, along with an internal microphone and speaker, enable usage with Internet-based communications services such as Skype™. A front-facing camera enhances communications capabilities with video. The microSD slot accepts SDHC cards up to 32GB, giving ample space to store songs, pictures and videos, and both standard and mini USB plugs allow jump drives and portable devices to plug right in. For private listening, users can plug their favorite headphones into the standard 3.5mm headphone jack.

On the road, the GCOM701 functions as a Portable Navigation Device (PND), complete with 4 million Points of Interest (POIs), powered by Navteq™.

Central to the new GCOM701 is the ARMADA 166 processor running at 800 MHz with 2Gbit of on-board RAM. An internal 7.4-volt battery delivers ample standby and up to 6-hour of operational time at full power mode (normal usage condition, up to 8-hour).