Russian unmanned cargo ship on way to ISS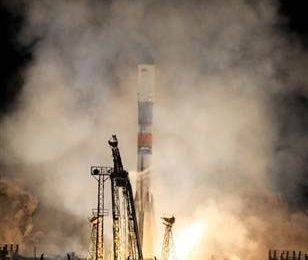 After all the drama with the Phobos-grunt failure for Russia, it has to be a bit nerve racking to the ISS astronauts that need food, water and parts when a Russian supply ship takes off. If the ship had failed, it would be longer before fresh supply is arrived. The good news is that the liftoff of the Progress 46 unmanned ship went off without a hitch this week and the supply vessel is on the way to the ISS.
The Progress 46 ship lifted off atop a Soyuz rocket from the Central Asian Spaceport called Baikonur Cosmodrome in Kazakhstan early Tuesday morning local time. It was the first space mission of the year for Russia and the supply ship will arrive late today with a huge amount of cargo onboard. Progress 46 has a total of 2.9 tons of cargo for the 6-man crew of the ISS.
The ship holds 2,050 pounds of fuel, 110 pounds of oxygen and air, 926 pounds of water, and 2,778 pounds of spare parts and other gear. The Progress ships are disposable and burn up in the atmosphere on reentry.
[
MSNBC]