Russian HIGHSCREEN PP5420 Android phone with dual touchscreens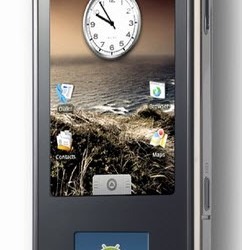 The nice thing about Android is that, because it's open-source, you get strange handset designs springing up all over.  One such example is Vobis Computer's HIGHSCREEN PP5420, a dual-touchscreen smartphone based on the Mobinnova Ice.  Vobis have thrown out the Ice's Windows Mobile OS and replaced it with Android 1.5 Cupcake; you – or should I say Russia, seeing as though that's where the PP5420 will launch next week – get dualband 900/2100MHz HSPA, WiFi b/g and GPS.
The main display is a 3-inch WQVGA panel, while underneath it there's a smaller 1.15-inch 128 x 96 OLED navigation pad.  A 3-megapixel autofocus camera lurks around the back, with a VGA version up front for video calls, while there's also TV-output, a mini USB connector and microSD card slot.
The HIGHSCREEN PP5420 uses Qualcomm's 528MHz MSM7201ATM chipset, has Bluetooth 2.0+EDR and an FM radio.  It measures 114 x 53.5 x 13 mm and weighs 120g with the battery.
Vobis apparently intend to sell the HIGHSCREEN PP5420 for €360 ($507) when it arrives in Russia next week.  No talk of plans to release it in Europe or the US, so this may be one of those odd devices that we have to bemusedly admire from afar.
[via Android Community]