RunCore's 1.8-Inch Netbook SSDs Now Shipping With 256GB Edition Soon To Follow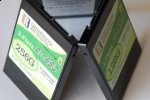 RunCore is now shipping their netbook SSDs that we have been hearing about lately. The 1.8-inch Low Cost Zif PATA SSDs boast a maximum read rate of 230MB/sec and top write speed of 150MB/sec. These drives promise to boost computer performance over the traditional 1.8" HDD by more than 400 percent.
Upgrading is easy with the user-friendly onboard USB slave port that allows users to easily clone the drive with any off the shelf cloning software. Included with your purchase you will receive an Acronis True Image 15 day free trial to help port over your information. Unfortunately these drives won't be coming in as cost effective as we had hoped.
The 1.8-inch Low Cost Zif PATA SSDs can be yours for $69.99 for 16GB, $119.99 for 32GB, $199.99 for 64GB and $389.99 for the 128GB version.  If this just is not enough storage space for you, the hyper Speed 256GB 2.5" SATA SSD version that costs $699.99 will be released in February to fill your needs.