Runcible, a wooden smart pocket watch, launches on Indiegogo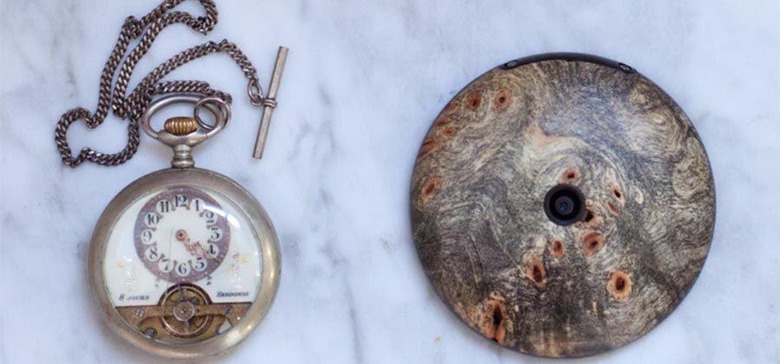 Remember the Runcible, a wooden smart pocket watch that was introduced more than a year ago? It's back again, this time as part of an Indiegogo campaign that hopes to bring the device to market. This is the "public pre-release," says Monohm, the company behind Runcible. Monohm is seeking $250,000 in funding through the crowdfunding website Indiegogo, where it has so far raised about $46,000 USD.
Runcible is like a really small tablet, the company says; it's not really a phone, nor is it a smartwatch, though it appears to be similar to the latter more so than a phone. The devices are built in California, and the wood backings are coming from local sources. As well, the company says its pocket watch user-repairable in the same way an old watch can be repaired long after the company behind it disappears.
The Runcible is designed to be kept for a long time rather than be replaced every year or two. The smart pocket watch features a Snapdragon 410 quad-core processor, ARM Cortex® A53 (64bit, 1.2GHz) Qualcomm Adreno™ 306 GPU with OpenGL ES 3 and Qualcomm® Hexagon™ v5 DSP. There's 1GB of memory and 8GB of flash storage.
The display is round, measuring 2.5-inches with a 640 x 640 resolution. Visible on the back of the device is a small camera, which has a modest 7-megapixels but support for up to 13-megapixels if you feel like modifying it yourself. There's also an analog audio in/out port and other options on the board itself (again, for modders). Other features include GPS and GLONASS, Bluetooth 4.1, 4G LTE (the company is anticipating, at least), and 802.11b/g/n 2.4GHz WiFi.
Backers are given a few backing options, one of which is a $499 USD option that aims to give backers a limited edition Lovelace model. The other option is $399 USD and is for the Babbage model. Finally, there's also a $5,000 USD option which will get backers a hand-delivered one-of-a-kind Runcible made only for that user, as well as dinner. The team expects to ship their products this upcoming September.
SOURCE: Indiegogo